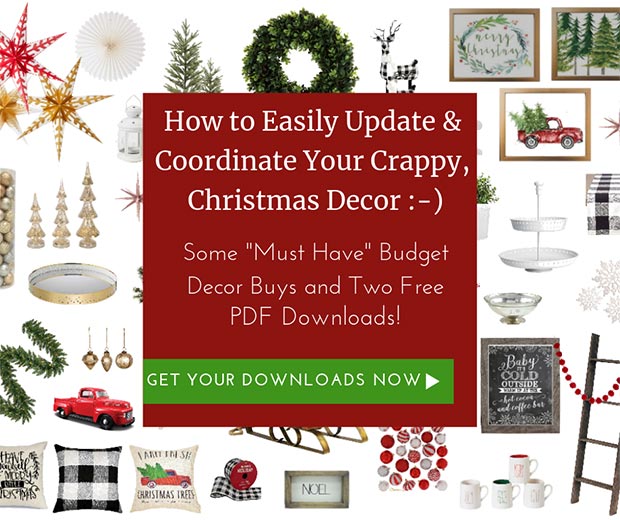 Have you ever opened up your holiday decor boxes and wondered where the heck do those items go in your home OR why you even bought them in the first place?
Or maybe you're like me and you have three bins of holiday decor that you have no idea how to use but can't bring yourself to throw away?
All three of these things went through my head​ as I opened my holiday decor bins with high hopes...only to find some really crappy, Christmas decor...ugh. It was definitely time for an update!
That's why I'm so excited to share with you my incredibly talented Expert E-Designer's wonderfully easy holiday decor updates on a budget with shopping links in the form of TWO FREE DOWNLOADS!​
Gina is our staff e-designer who curates most all of our boards and is the go-to person for shopping on a budget. She got very carried away curating holiday design ideas and boards for our Expert E-Designer training that I thought were too cool not to share.
Here's a list of some "Must-Have" Christmas Decor that quickly updates your look and is easy on the pocket book...
All of these holiday decor items are extremely versatile, classic and budget friendly. In this post and in my next post I'm going to show you how to use these items to create vignettes, update your tablescapes, create gorgeous centerpieces and more.
Do you have some empty spaces in your home that can use holiday cheer? Make these 3 holiday vignettes on the fly using some of the items in your guide above...
---
---
Enjoy these free downloads and stay tuned for more holiday design hot tips!
Have you critically looked over your holiday decorations recently?  Here's some easy ideas and items that will go a LONG way in updating your holiday home…free downloads!