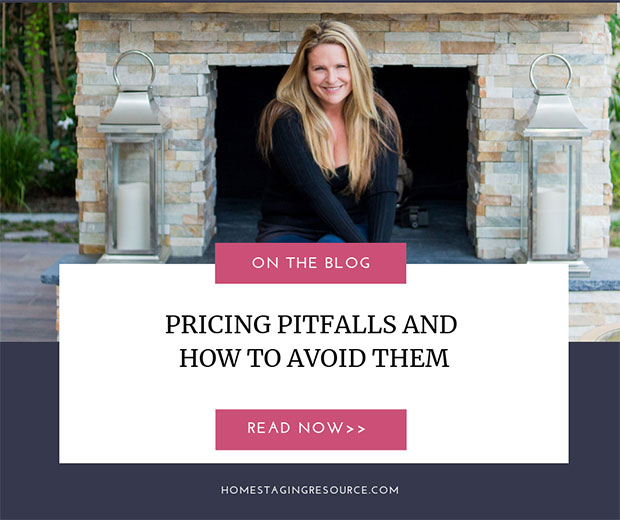 Staging pricing is one of the most confusing topics in our industry because we are dealing with a very complex product...the home. I've seen long-time, veteran stagers make pricing mistakes, so my hope is to "lift the lid" on this topic and cover some of it here and a lot more on my free, live webinar next week:-).
Here are the 4 out of the 10 mistakes home stagers (and designers) make when they create their services and pricing list...to see the last 6, click on the image above and join me on my Pricing Webinar.
They Don't Set CLEAR Expectations
This may seem like an obvious one but I'm constantly seeing service details left out of the pricing list of stagers and designers. "Consultation" is a VERY broad term in this industry and one person's may be a 15-minute, assessment while another's is a 2-hour walk through with a staging report...would you agree that those are VERY different priced services?
What happens when we ASSUME? Why let your client assume anything from your service list! Be crystal clear in what you're delivering, have a equally clear contract and you will alleviate most every problem that stagers encounter (which are usually misunderstandings based on "assumptions" anyway).
So many home stagers believe that clients purely go off of price when choosing a home stager, so they price too low in order to win the job. While some uneducated clients will choose solely on price, most people are savvy enough to recognize that staging is an art form and "you get what you pay for" when it comes to the staging design work done in the home.
The "low ball stagers" are usually not invested in their business or HSR Certified. They think "staging would be fun" so they just think they will charge what their hourly was in their last position...ugh!
These untrained stagers would also not know how to shop wholesale, not understand the real estate market, not have those valuable vendor relationships, a good contract, understand client phraseology, have insurance or be in business by this time next year so never fear the "low ball stager"!
They Negotiate or Discount Their Pricing
This is an honest mistake I see even the most veteran stagers make when it comes to their business. By nature, we are creatives...not hardened, "salesy" negotiators. The "typical" successful skill set needed to be an AWESOME staging artist usually comes from the right brain, so it's easy for us to "cave" when a savvy, negotiating agent wants to "value down" a stager's pricing. Please trust me on this...DON'T DO IT.
I also think there are ways to be "flexible" in your pricing that doesn't diminish your pricing credibility like wavering and discounting does...and this brings me to another pricing mistake:
They Don't Stair-Step Their Pricing
Not everyone has the budget to have you in their home, staging it for days, so that is why it's always good to have a stair-stepped price model that allows for the "Do-It-Yourselfer" who can take your detailed Staging Report and do the work.
I always say that successful staging requires 4 things to work...
Objectivity

- This is why the home seller who is connected to their home emotionally, can't stage it.

Extreme Design Expertise

- The HGTV, design magazine, change their rooms up, design addicts who LOVE all things design have been training themselves through their passion for years. That's the Extreme Design Expertise it takes to stage beautifully.

Time/Energy

- Home staging is a full-time job and that's why a busy agent who may have the top two qualifications doesn't always have the time and energy to do the work.

Valuable Vendor Partners

- It is "who you know" and in staging, there are a myriad of vendors we cultivate from retailers, to furniture wholesalers to the people who do the work (painters, general contractors) that make our jobs seamless.
Looking at the 4 items above, if the seller has the time and energy to put into the staging, then a stager can have stair-stepped pricing and simply provide the objectivity, extreme expertise and vendor list in the Staging Report. This is what HSR Certified stagers are trained to do and they have access to a large, staging report model that works really well in the home!
Hopefully that gives you some food for thought on pricing. I'm going to continue this conversation in my next, BRAND NEW, live webinar, so I hope you can join me!
Staging pricing is one of the most confusing topics in our industry because we are dealing with a very complex product…the home.  I've seen long-time, veteran stagers make pricing mistakes, so my hope is to "lift the lid" on this topic and cover some of it here and a lot more on my free, live webinar next week:-)…