2014 Home Staging Convention
Five Lessons Learned From the 2014 RESA Convention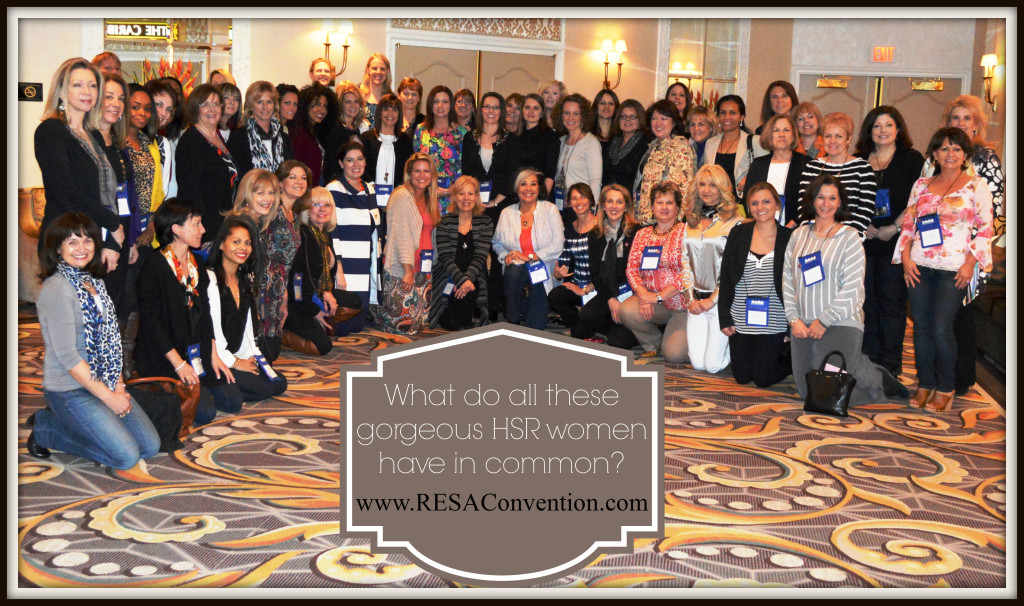 Can you believe all the Home Staging Resource members who attended the 2014 RESA Convention?  There were over 60 of us and boy did we have a blast! Every year I speak at the RESA Conference and learn so much that I add to our HSR Certification training.  I love that online training provides me a "real time" educational avenue to provide critical information to the hundreds of HSR Members across the world!
Over the next few weeks I'm going to be sharing some of the things I learned at RESA, as well the success stories I got to hear firsthand from this incredible group of women.  Make sure to stay tuned by signing up to the right for our blog.  I also am spending a ton of time adding what I learned from the RESA Conference to my HSR training area, so everyone can benefit from the takeaways which is the beauty of online training.
Here are some of the 2014 lessons I learned by our incredible line-up of speakers:
Lesson Number One – Your contract is your "paper courage" said Kimberley Seldon on day one, so when a client wants to do it differently…you refer to your contract and make no exceptions.
My Training Takeaway –  I'm going back through our example contracts that we provide in the training using Kimberley's mantra and making them stronger and more steadfast.
Lesson Number Two – Steven Aaron spoke eloquently on the need for stagers to "do a better job articulating confidently your value!"  Give real estate agents an easy way to recommend you to their clients.
My Training Takeaway – Add to the training "Realtor Partner Plan" and "Realtor Presentations"  a page/slide on how the stager makes the agent look awesome.
Lesson Number Three – Katie Lance (a social media guru) spoke on what's important in social media for 2014 for stagers and how you can easily connect to clients using some of the new social media technology.
My Training Takeaway – Completely redoing my social media and networking section to reflect the 2014 trends, add the tips and tricks of connecting with clients and being a "good stalker" which will make it easy for HSR members to make agent partnerships.
Lesson Number Four – Shell Brodnax was one of my favorite speakers and spoke about "Reining in your fears – stop focusing on what could go wrong and focus on what's right!"
My Training Takeaway – Add more information and video in my Week Two Marketing section that helps stagers connect easily with their propects and clients, so the "fear factor" never comes into play.  I also am pushing the Staging Mentor program since is an easy way to take the fear away by working at a home and with clients under a Mentors guidance.
Lesson Number Five – Matthew Finlason spoke on the psychology of staging stating that, "it's not about pretty rooms but about SELLING homes!"  He also emphasized understanding the "buyer demographic" and creating a lifestyle design plan that fits.
My Training Takeaway – Expand on my six buyer demographic Internet research steps and add a "Buyer Demographic Profile" form to that section.