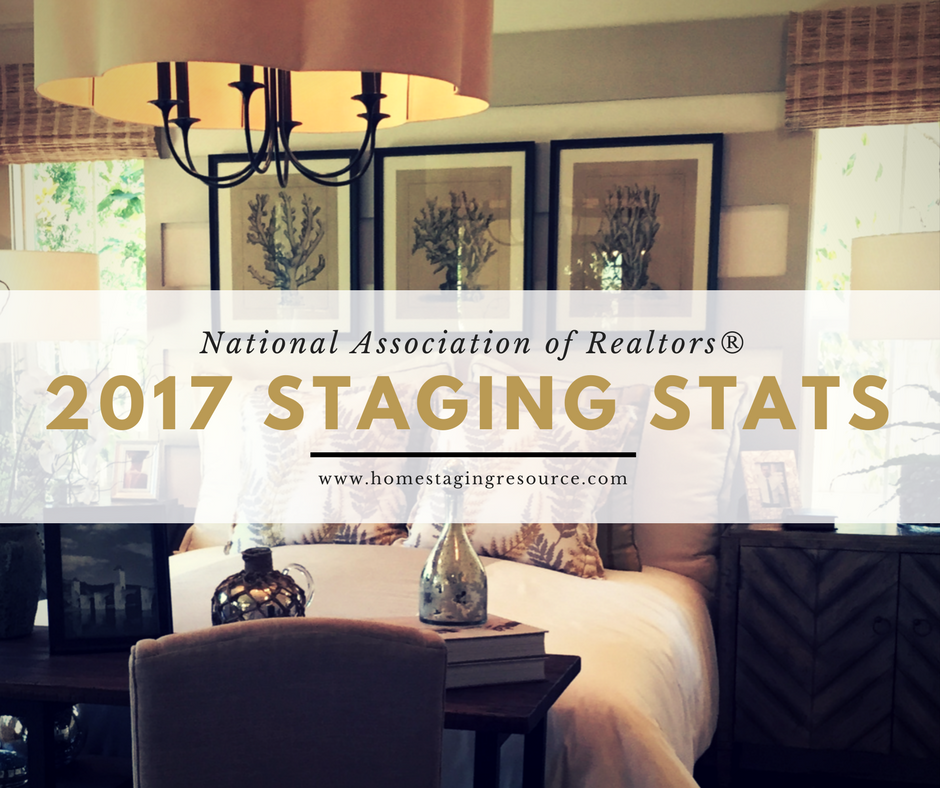 New 2017 Home Staging Statistics Are In!

The "actual value" of home staging is hard to quantify because who has the crystal ball to know what the home would have gone for had it not been staged? Having said that, I get emails daily from HSR Grads who stage homes that have been sitting only to have them receive multiple offers after they staged the home. 2017 home staging statistics are hard to come by but luckily a new survey has been done.

Statistical Changes from 2015

In 2015 the National Association of Realtors® (NAR) created a survey profile of home staging for the first time and the staging industry went wild! Finally, staging which has become commonplace on HGTV was being acknowledged in a real way by NAR. I'm so pleased to see that NAR has updated those statistics for 2017 and while not much has changed, here are some key differences in the report:
Staging the Outdoor Spaces has become much more critical as "outdoor entertaining" is hot!

The 2017 profile featured the importance of staging for each room of the home
My mission has always been to "make hiring a professional home stager when selling a home an industry standard" and it's statistics like the ones below which help our industry EDUCATE, EDUCATE, EDUCATE the value of what we do!

Does Staging Increase the Home's Value?

Yep, agents are "getting it" and the "Seller's Agents" are really seeing that the homes that are staged are getting a better price than the un-staged homes. While it's hard to quantify exactly how much more a seller is getting for their home, it's easy to say that improving upon a product usually nets you more.

Does Staging Effect the Buyer's Viewpoint?

The Buyer's Agent sees that taking their client's to homes that have been staged provides a more likely offer since the staging does effect the way the buyer views the home.

Do you have a home on a busy street, small lot or in a more undesirable area? Check out this stat...

FREE Download of All Statistical Images for Your Use!

How Important is Each Room from a Staging Standpoint?

How important is staging every room of the home? It turns out that each room has it's own value of importance according to these 2017 home staging statistics. In fact, this is one reason why I train my students to do good, better, best type bids when it comes to staging a vacant home. Providing options to clients in a way that fits their budget while maximizing return on investment is important and my HSR home staging certification training teaches this critical business concept.

Each room in the home provides an opportunity to "wow" the buyer, so staging and every detail matter!
Living Rooms and Master Bedrooms Top the Chart!

Staging the key areas in a vacant home which include the living areas, master bedroom, dining areas and kitchen are obviously an important factor to most buyers according to these 2017 home staging statistics!

I've long been saying that outdoor areas are trending in importance to the aesthetic and return on investment, so it was nice to see that this area of staging was right behind the kitchen in importance!

Who Pays for Staging?

A lot of times the agent feels like they should be the ones providing the staging service or paying for staging but this is simply not true. The home seller benefits the most by having their home "move-in ready" and staged, so they should be the ones to pay for this critical service.
In fact, now more than ever home seller's are contacting a professional home stager BEFORE getting an agent...

2017 National Association of Realtors® Profile of Home Staging Report is in!  Here are some 2017 home staging statistics images you can use…