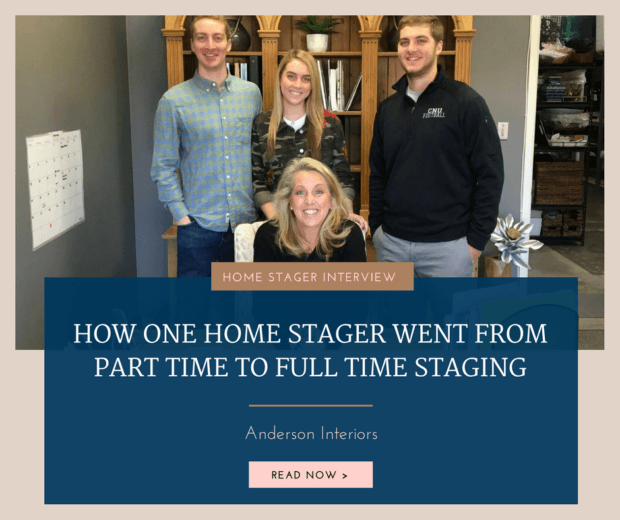 In my training, I walk people through how to discover the right business model for their situation. Why do I do this? Because everyone who joins the HSR Home Staging Certification training has different business goals and reasons for becoming certified in home staging and design.
Below is a very cool home stager's story because her business evolved with her family situation...
When Leslie Anderson of Leslie Anderson Interiors, a Washington DC home stager started her staging business her goal was very simple...work part time in order to focus on her kids.
Here is her story and her GORGEOUS staging work...

​
What was your life like before becoming a home stager?
Prior to starting my Home Staging business, I was a stay at home mother of three children. I spent most of my spare time volunteering for the local public schools and helping friends decorate their homes! One day I was helping a friend get her house ready to go on the market and I decided to look into home staging as a career. That is when I started researching online courses such as Audra Slinkey's Home Staging Resources.
How did you get started in your business?

When I decided to become a home stager it was important to me to become certified. I looked at many different options and was most impressed by the Home Staging Resource's program. I was excited about how Audra's experience and background helped her build her program and the quality of the materials her program offered (including a website) to get my business up and running as soon as possible.
How does your business look today?

I am so excited about how far my business has come. I started out doing this as a part time business while my kids were still home. In the last year, I have been able to work full time and have moved my entire inventory into a new warehouse and office. It makes such a difference! It has given me the ability to become so much more efficient and sales are increasing daily!
Any advice you would give someone thinking about getting into the industry?

I took my time in getting my business up and running as I am the type of person that likes to make sure that everything is in line. If I were to do it all over again, I would probably get the ball rolling a bit faster than I did. I like to perfect things and I have now realized that part of perfecting your business is to allow yourself to learn from your mistakes.
What has been one of the secrets to your success?

Not only did Audra's program help me get my business up and running quickly, it has also helped me grow my business each year. Audra continually adds things into her program to help stagers increase their revenue streams in different ways. I always have access to new ideas and marketing materials which is so important and helpful to me as a single business owner!
Now Leslie has her own storefront and warehouse...woot!! I'm so proud of her and I bet her kids are too. Thanks so much Leslie for sharing your story!
What will your story be?

FREE VIDEO! Could a Career in Home Staging Be For You?
KEY QUESTIONS TO ASK YOURSELF & INFO ON HOW TO GET STARTED STAGING...
What background should you have?
How much money do home stagers make & what to charge
What are the typical start-up costs and first steps?

I love sharing HSR Grad business success stories!  Leslie Anderson's business journey evolved with her lifestyle changes and it's super cool to see.  I also show you her gorgeous photos stage house right!