2016 Pantone Color of the Year Rocks the 80's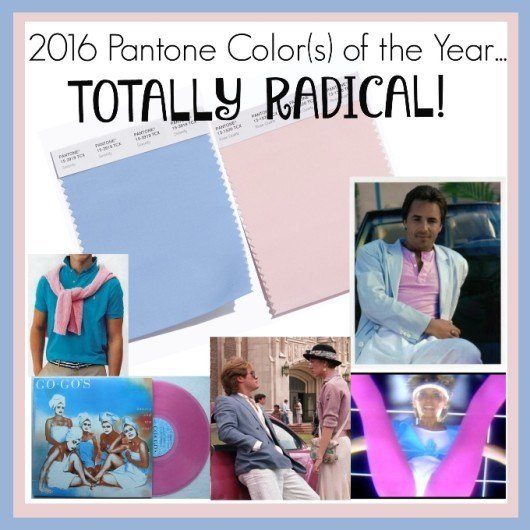 When I saw the 2016 Pantone Color of the Year (which is not a single color but two colors in harmony), I was giddy with excitement!  Why?  Because when was the last time you saw dusty pink (Rose Quartz) and pale blue (Serenity) together?  Yep, you guessed it…the 80's!
Pantone states that it's intent in picking two colors was to reflect "connection and wellness as well as a soothing sense of order and peace."  This is the first time they have ever picked two colors (which I love!)  "Anxious times call for calmer colors," said Pantone.
The reality is, the last time you saw these two colors side-by-side was over 25 years ago at a time not that much different in "turbulence" and tension than today.
Remember these guys?  You couldn't get through an episode without seeing our 2016 Pantone Colors on display in garb and interiors.  Crockett is wearing our 2016 Pantone Colors.  Be still my beating heart! But seriously…do you have any of this color combination in your closet or interiors?
No, probably not because I did several searches on Houzz and Google and you don't see this color combination in interiors anymore.
When you have two prominent paint companies (Benjamin Moore and Sherwin Williams) choose variations of white as their color of the year, it feels as if Pantone's made a very bold move.  Not only is it unconventional to pick more than one color (something they have never done), they have specified two colors that have not been seen in unison in 25 years!
It was all over the movie set interiors of the 1980's…notice the dusty pink couch set and pale blue rug?
The 2016 Pantone color of the year, color combination was everywhere we looked!
I feel like we should have seen this coming since lately we've seen increased popularity of certain "elements of the 80's" in the last couple years.  For instance, who hasn't purchased brass (anything) and ginger jars in the last year?
What makes me giddy about moving towards the 80's style is not only am I a product of the 80's (class of 1989) but my love for interior design (inspired by my mother) was born in that decade.  That decade represents a certain fearlessness when it came to dress, style, interiors, music and culture that has not been seen since.
My mother had designed our living room in the 80's with pale blue carpet, dusty pink chairs, brass framed photos and standing light fixtures, several ginger jars and of course a large white couch.  Pink and blue were everywhere in our house in the 80's because it was hot, hot, hot!

It was the decade that celebrated the ridiculous and absurd while ushering in the "preppy" and "yuppy" sub-cultures.  It was truly a decade of diversity in a form that treasured being unique.
It was cool to NOT buy designer.  It was popular for boys to wear pink…or color your hair any color you prefer.

Is Pantone trying to usher in the carefree attitude of the 80's or merely giving a nod to gender equality?  An even better question is…are we ready for the 80's?
So…do we hold our breath and wait and see if it catches on or do we embrace it for all it's worth?
Personally, I don't think it looks too bad in this more modern setting…What do you think?
It's interesting to me that the colors picked by Pantone this year have no relationship with last year's pick (which many people were not fond of).  It's almost as if Pantone said, "we better get it right this year and be cutting edge since we kind of blew it last year."  Whatever their intentions I love to see the changes in design, color and trends…it's what makes us home stagers and designers super happy!