Amazing Home Staging Before and After Photos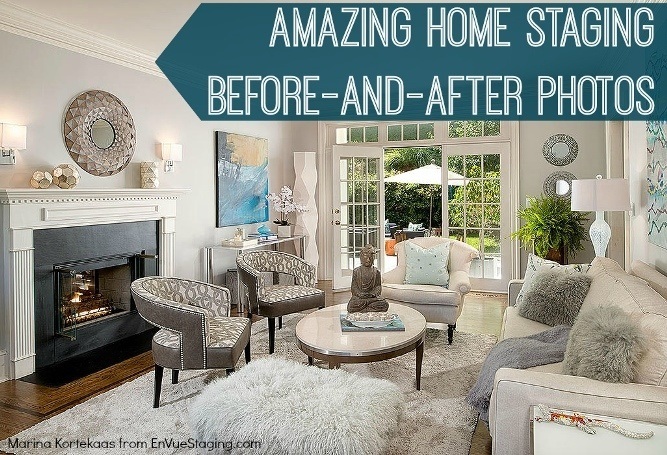 In the over ten years I've been doing home staging training, I NEVER get tired of seeing gorgeous, home staging before and after photos!  Successful staging is not "easy" or something you can learn in a book.  Amazing staging is an ART form born out of extreme expertise driven from a life time of a passion for interiors.  There is so much design talent in our HSR certified membership, I just had to share some of my recent favorites from our almost 10,000 photos in our Stagers Connect photo gallery…
Carolyn Rush of CR Interior Designs, a home staging company in Montgomery County takes a home with lots of character and works her staging magic:
Look what Ginger Slemons of Elevating Spaces, a home stager in Salt Lake City did to this home!  It's all about getting the buyer to stay in the home and eliminating those questions a buyer would have about a home that does not look "model ready".  As you can see from these two home staging before-and-after photos PAINT makes all the difference!
And you all know what a pillow freak I am, so you can imagine how much I love the way this master bedroom home staging before and after is given some fun style with just a pillow…
Nichol Sandoval of DreamHome Staging in Hollister, CA staged this vacant home where before you mostly notice the bad valance and broken blinds.  Another critical reason to always staging a vacant space…look how the after staging makes this room look adorable!
Every tiny area of the home can benefit from a fresh perspective!  Laura McAllister of Laura Lorraine Designs, a staging company in Rancho Cucamonga, CA helped a friend redesign their entry table area.  Every area of the home, gives the interior stylist an opportunity to create style, function and a smile on the owner's face!  I love how that tiny space now has big impact:
I'm buried in home selling success stories and wish I could share them all!  I also get to hear a ton of personal success stories especially from new members who just decided to take the plunge, follow their dreams and start a home staging and design business…
here's a couple of my recent favorites that made me laugh out loud…
I am so excited about this business that I can barely sleep!  I dreamt about color  combinations all night. My boyfriend is looking at me sideways,  wondering why this makes me so happy!

Sure beats sitting in a cubicle.  Thanks so much for creating such a great program!

Best regards, Cyndi Latour
This was one of the first non-testimonials I've ever received and it made me completely crack up!
Audra, I cant thank you enough. Not a slow start but a slow/medium start to my new business but it finally clicked in and I am now turning down jobs because I am just too busy. There is so much information in your course that I was only able to skim through and if there is such a thing as a "slow season" I welcome the chance to go back and study it further. Looking back, the best tool I used to start my business was to sign up for your classes. The bad news is that I can't recommend you because I don't want my competition to have the valuable tools you have provided me…Forever in your debt.
I had to keep that one anonymous but isn't that hysterical?  Anyway,
homes and people are being transformed in this industry…it's a wonderful thing!
Finally, I just had to share an email I received from a new member, Janis Capone entitled, "A Great Friday the 13th!"
Janet had emailed me last week letting me know she had her first full, staging day on Friday, Nov. 13, so I quickly emailed her back some tips, encouragement and a request to let me know how it went…here's what she sent today:
 Hi Audra,

Thanks for the congrats and well wishes.  Today was fabulous!  You really came through for me in so many ways.  I felt prepared, confident and comfortable with my first full home staging.  Your voice was a constant in my head saying,"You can do this".  I practiced my pitch (like you instructed), I was complimentary of their home,

I was honest and I listened to them

.

Your words of wisdom really paid off. What great satisfaction not only for me, but more importantly my clients. Rewarded with many hugs and kisses and a check to boot! I know that there is so much more to learn and I can't wait for this. So in closing, thank you for a great day and I look forward to many more.
 How cool is that?!  What will your story be?
Not all professional stagers are equal!  Our HSR Certification training was the first and one of the only staging and redesign training programs that has been third-party, accredited by the Real Estate Staging Association, so invest in the best!