5 Best Design Tips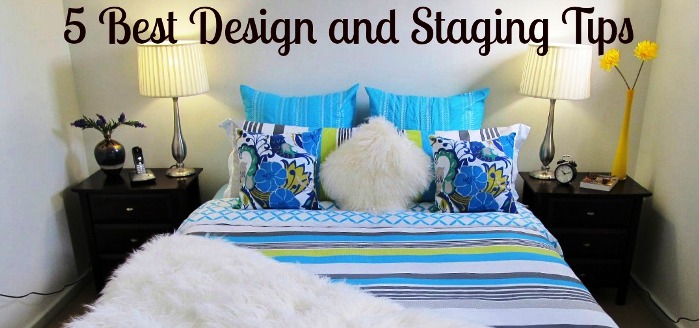 Gregg Churchill, an HSR Certified Stager and Designer in Australia gives his 5 best design and staging tips:
What makes great design is up to your own interpretation, but I do know that when I see great design it hits me right away. We all have different styles and thoughts on our own personal design which is often influenced by all the new TV Star Designers e.g.: Sarah Richardson, Candice Olsen; Martin Lawrence-Bullard; Colin and Justin etc.) and all the inspirational shows they have on our TV screens, brought right into our own homes. I watch and record all the TV shows to learn as much as possible from them all.
The 5 best design or staging tips I can offer are the following:
Professionalism 

That is the first & most important tip I would advise anybody when going out and selling your services. This includes punctuality; dress sense; tone of voice; facial expression (smile and be sincere) etc. Be professional every minute you spend with your clients, whether it is face to face, via emails or telephonically. Its sounds obvious, but so many refuse to adhere to this basic tip. Know what you are selling inside out and backwards. Nothing worse than being ignorant of your own subject you are trying to sell.

Keep it simple

– Don't overthink the redesign of the interior of the house or try to get to too fancy, apply what you have been trained by HSR to do and you will never go wrong. Study the bones of the property and the space allocated and complete your furniture arrangement. Never stop trying to improve your talent and keep abreast of new styles and fashion colours/hues etc.

Accessorize

– Bring out your creative side! Wall art, vases, ornaments, pictures, small furnishings, faux indoor plants etc. are the jewelry on your staging creation, especially if you buy items that repeat a rhythm in that space or compliment the colour scheme. Always buy the best accessories that you can afford, its pays always! Don't panic – Stick to your budget plan, and your interior themes.

When styling multiple rooms, use a colour thread throughout to bring cohesion to connecting spaces

.

It isn't necessary to use the exact same colour in each room. Applying layers of the same colour, varying the hue, makes the space feel connected and less intentional. Accent colours can be used from neighboring rooms to link them.

Know that less is more

. Be careful not to over accessorise every corner of a space, especially when its functional needs are simple. Too much clutter in a space kills the design and makes the eye jump all around the room causing confusion. I do all my vignettes in my store room before I do get to the staged property, so when I get to the vacant property, I know exactly what goes where and it saves time too. Great to also use an iPad for planning purposes.
In summation I would recommend that what every avenue you decide to pursue in your Home Staging career, always have fun and enjoy every minute of what you are doing. Try and specialize in one category for best results e.g. vacant home staging.
Always have something different to offer your clients study your opposition from time to time and see what they are offering and you may not be or never thought to. Stay abreast, keep up to date and never stop learning. Learn from as many people as you can and you will always be the best in your chosen field. Enjoy!