Staging Certification Video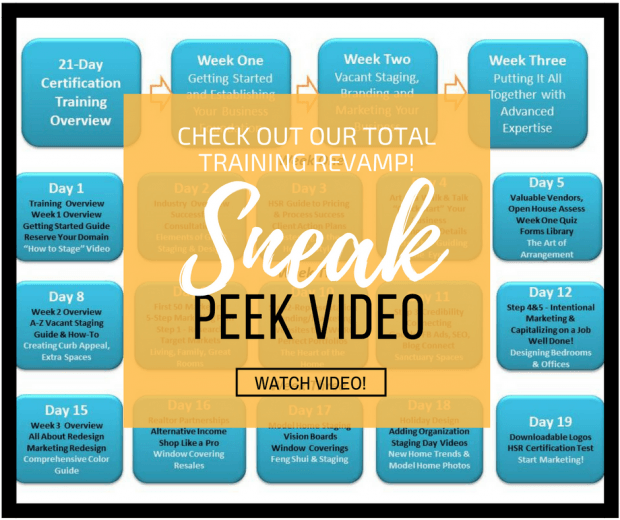 I have spent the last four months going through every inch of our 21-Day Home Staging Certification Training and migrating it to a cutting edge, online training system. Every form, guide, page, link and resource or our staging certification program has been updated to reflect our changing staging, design and real estate industries. I'm so proud of this new training area which members are RAVING about.
If you are shopping for staging and design training, then watch this video and compare it to anything else you've seen...I promise you will LOVE it!

DOWNLOAD OUR NEW TRAINING CALENDAR!

This quick training calendar gives you an example of the resources available to you on each day of the training...you are covered and will be referring back to it often!

Last Week's Raves...

I love the training. I think it is exciting! I can't wait to get up in the morning and start my lessons. All this material we are covering is invaluable. When one thinks about all the money one can end up making in this business...this course is really inexpensive. Plus you get to have fun while making a good living.
Anna Marie Stone
Staging Pays Off
I started the training before you updated the member's area, and I have to say that I like the new layout very much. The way you've rearranged the lessons is making it easier for me to follow, and I like being able to keep track of what I've finished on the sidebar. All of the information in the training has helped me feel more confident, and as though I can actually make this happen!
Emily Funk
Emily Funk Design
The HSR training is excellent! I've learned so much already and am eager to learn more. All the questions I had before are being answered ten fold, I love this course so far!
Misha Taylor
Upstaged Home and Interiors
We have completely moved our staging certification training onto a brand new, online, cutting edge training system and it's amazing! Check out our "Sneak Peek" Video that shows you what's inside the training area…