5 Critical Reasons to Attend the RESA Convention this Year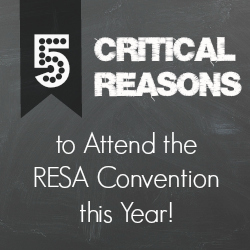 Every year I go to the RESA Convention and every year I get ten times more done in my business the months following that inspirational event because it is so motivating!  I really can't say enough about this event, so I thought I'd bullet point some key reasons to attend (and use to convince your spouse the importance of you going!)
Barbara Corcoran – Need I say more?  It's incredible to me that RESA was able to get her to speak and I can't wait to see what kind of wisdom this amazing woman has to share!
Training Times Ten – Yep, you will learn so much at this event on so many different topics!  The experts are hand picked and are the best of the best!
It Will Fire-Up Your Business – I promise you will walk away feeling invincible and capable of tackling the toughest projects, clients and marketing activities!
You Will Make LOTS of Friends – Staging and design can be a lonely business, so coming to this event allows you to connect with peers, network and make friends that will also hold you accountable and encourage you all year round.
Early Bird Pricing Currently, Las Vegas is a Cool Place to Visit and the Great Food – Okay, I listed three more fantastic reasons that not everyone is aware of…in fact, I think I gain five pounds from the amazing food that is served at the RESA Convention every year.
For past and present HSR Grads, I have a special video invite just for you…