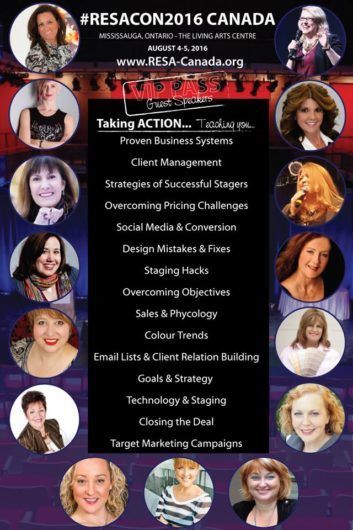 The RESA Conference is coming to Canada. So excited to announce that the Real Estate Staging Association is having a Canadian Staging Conference this summer for our sister-stagers based in Canada!

Click Here to get more information on the RESA Canadian Staging Conference!

I'm so bummed to have to miss this event but I have a long-ago planned family trip scheduled:(. Good news is that some of my FAVORITE Sister-Stagers will be speakers at the event...

Tori Toth
HSR Grad and Sister-Stager, Tori Toth is a YouTube and marketing genius! She is amazing!
Kristy Morrison
Kristy gave this talk at the last RESA Conference and I heard RAVE reviews from all HSR Grads who attended. Don't miss her!

So many more insightful stagers will be teaching at this event, you have to go there to see them all!

2016 RESACON Canada...
Click here to get the full details!
Canadian Staging Conference brought to you by RESA!  You won't want to miss this summer event…