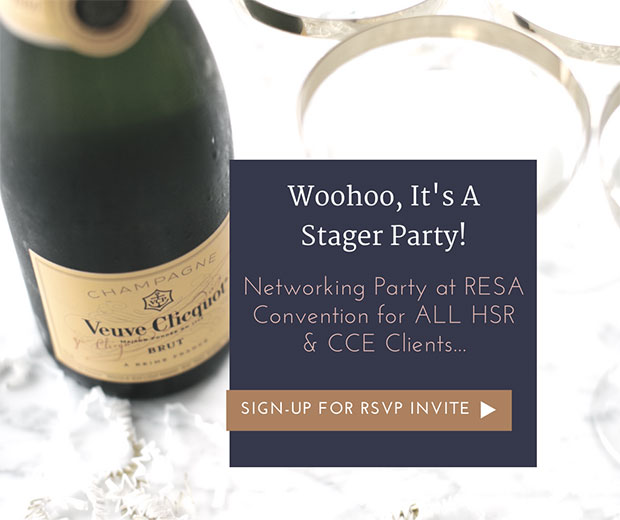 I love a good party don't you?
As a HUGE "THANK YOU" to all my clients, I'm hosting a RESA Convention Networking Party in a private, loft suite at the M Resort for anyone who has purchased any one of my training products (HSR or CCE).
Here's the party details:
When: Thursday, July 26th from 4pm-6pm (right before RESA Convention kicks off)
Where: At MResort in a Private Loft Suite (sign-up below to get emailed the room number)
Who: All of my past and present clients (HSR, CCE)
Why: Because I'm so grateful to all my clients and members!
RESA Networking Party Sign-Up...
Please sign-in so I can email you the Loft Suite Number when I get it from the hotel on Thursday, July 26th. Party will be from 3-6pm and drinks are on me!
If you're going to the RESA Convention and you're a client of mine, please fill out the form below so I can quickly email you my Loft Suite Number when I get it:
RESA Networking Party Sign-Up...
Please sign-in so I can email you the Loft Suite Number when I get it from the hotel on Thursday, July 26th. Party will be from 3-6pm and drinks are on me!
The HSR training provided us with all of the information and tools we needed to make a successful start to our business. Thank you Audra!!
Melissa Hagen & Sara Jeffrey
- The Staging Company
Audra has sincere passion and dedication to the staging industry as demonstrated through her training. I chose to embark on this journey with Audra as a trainer because I like her realist approach to business, her positive attitude, and attention to detail in her training materials. Education and learning is a necessity for me as I am curious by nature. Audra far exceeded my expectations as I learned more through her course then I could have anticipated. Thank you, Audra.
Amy Beers
- House of Sheldon
I've been staging properties for the last 3 years and have always wanted to go deeper in this business. Until now, I didn't feel I had enough training to turn my love of redesign into a real business. HSR has given me the training, the forms and the confidence to move forward. I can't wait to see what is ahead!
Very updated and clean/bright and love that we can customize it!
Andrea T Turner
- Decor By Redesign
I absolutely loved your training. I feel very confident about staging now and feel your training has equipped me to be successful. You have given so many wonderful and useful business advice as well. Loved taking your class!!
Kelly Rhee
- Pink Diamond Staging & Design
Audra's program is fully extensive, with a plethora of real-life examples to learn from. She doesn't hold back on any industry secrets and really shows examples of great staging and explains road blocks, and pitfalls to avoid. She really covers everything and makes it fun and easy to follow.
Jenine Porvin
- Modern Desert Interiors
I can not say enough good things about this training. I know a lot of people say that and it's so very true. Can't even imagine how many hours Audra has put into this EXCELLENT training. Definitely worth the price! I would have NEVER had the confidence before to make my dream come true. Now I can honestly say I do and more than I ever thought I could. Thanks Audra for this AWESOME training and the confidence to be able to follow my dream.
Andrea McAtee
- McAtee Staging & Redesign
I just completed the HSR training which is by far the best certification program out there!!! I researched a lot of the staging training companies, and you will not receive all of the knowledge that Audra shares in any other program. You get so much information and resources that it is mind blowing. I can't wait to get my business up and running!!
Cristy Smith
- Elan Staging & Redesign
This training was so much more then I ever imagined it would be! The information on how to market and brand my business was real eye opening for me.
Caryn Irwin
- Staging & Design Caryn
I have been staging for over a year and I learned so much more than I ever knew about the business side of staging. I also learned about working in a more professional way with my clients. I was good at staging before, now I am going to be GREAT!
Tricia Bass
- Tricia Bass Beautiful Homes
The HSR training is amazing! Lots of valuable information has been covered. very organized in terms of the flow of the material. Moreover, having all the forms and instruction is a treasure to an organized business kick off ! Audra, I am thankful to you for all you have done over the past years to give Home Staging a national and global reputation and credit that it deserves.
Atusa Darani
- Atusa & Company
The HSR training has been phenomenal! The thorough and easy-to-follow videos, readings, and handouts have helped me feel very prepared to launch my staging and redesign business, even with very little prior staging/styling background. Well worth it!
Brooke Craig
- Brooke Craig Interiors
Going through the HSR certification training has been a total game changer. I have gained so much knowledge, not just about staging but how to run your business. The staging part I had down pat. However, I know now that my business would have suffered on the marketing (web design, presentations, bold, etc) end had it not been for HSR.
Amy C. Scarborough
- Happy Is The After
I just completed my training! I must say, this training was very informative, very information packed, and very helpful. You would be hard pressed to find a comprehensive step by step guide to setting up your own business anywhere like this! Guys, this is your business wrapped in a bow! Can't get any simpler than that! Thank you Audra 1000 times over!
Jacqueline Tillery
- JST Real Estate Interiors
I have been in the home staging industry for almost 10 years and until recently I didn't think having formal training was necessary. Audra provided me with invaluable advice in terms of marketing strategies and alternative revenue streams! I cannot wait to implement what I've learned and grow my business! Thank You Home Staging Resource!
Jessice Lynn Smith
- Spotlight Staging & Design
HSR training is comprehensive, professional and not for the faint of heart. This program not only trains you on the fun design side but takes you into a realistic, functional marketing program that will make your business not only successful but optimal for resale down the road. Thanks for all the information and all the possibilities that await me.
Mary Redwine
- Rain Tree Staging & Design
Audra, (and team ) I would like to thank you but words will not convey. I have always worked in a creative businesses and bought /refurbished many homes. I am always the go to friend for design advice and I too pour over local real estate, yet I had never thought of staging ( vacant's ) . After starting this course I can see the need in my area and I am hopeful that with your amazing training and CAN DO ATTITUDE I can make it work... thank you....
Dana Denton
- A Bungalow Design
I can't say enough good things about HSR training. Its a pleasure to have joined such a complete program. So much material is at your finger tips to make even a beginner like me succeed.
Charlotte Bullock
- Bullock Design and Staging
HSR's certification training exceeded my expectations, it is a very complete training and covers everything, the business part, marketing and the staging/redesign part. I feel way more confident now. Honestly, before I started the training I had no idea how to begin my business! Now I feel confident and have no doubts that I will be successful! Thanks Audra!
Flor Lydna
- Transformations Home Staging
HSR's training and certification program was exactly what I needed to help me turn my design hobby into a business. Audra's wealth of knowledge and experience is invaluable, and I am so glad I chose this program to jump start my home staging business.
Elizabeth Pollard
- EP Home Staging
Amazingly helpful! It was easy to follow the program, and Audra was delightful to listen to. I highly recommend this training for anyone with a passion for design and home staging.
Christine & Paula
- Design Sisters Home Staging & Redesign
The HSR program was extremely comprehensive. Audra provides everything imaginable to set the foundation for a successful staging and design career. Her expertise in business, marketing, and the digital world makes this program stand out.
Julie Martin
- Haven Staging & Design
Wow! The certification is very in depth, way more than I was thinking. I will have to say "I really got my money's worth"!! You (Audra) cover every little thing. I'm very pleased with everything. My husband is also! He brags about me every chance he gets. We are really looking forward to starting up our own business together. I hope to be able to employ my two grown sons and my husband one day. I t may just be sooner than we think! That would be my dream come true! A BIG THANK YOU Audra! You are awesome!
Carol Church
- Decorating Chick, LLC
Audra's HSR program is amazing! It's very detailed and is something I wish I had found years ago if I weren't to afraid to follow my passion. I took my time getting through the material but remembering my "why" pushed me past my fear. Now, as an HSR grad, I am confident I have the tools to be successful...I'm ready! Thanks Audra.
Chanell Miller
- A.L.O.F Home Interiors
I am incredibly thankful for Audra and Home Staging Resource. I knew HSR was the right choice after watching the introduction video and learning about the program. HSR is not just a home staging training. When taking the course through HSR, you will learn smart home staging and redesign strategies and tips, you'll gain a wealth of knowledge on how to structure your business properly, and you'll learn how to implement marketing strategies that work for long term success. After taking the training and as I move into my new career as a home stager and redesigner, I feel excited, confident, and empowered in my ability to build and grow my business so I may share my passion and love for design with my clients.
Elizabeth Anne Shea
- Gardenia Home Design
I really enjoyed the HSR training. I learned so much and gained confidence in my decision to follow my design passion. Audra and her video tutorials were entertaining, packed with information and kept me focused on each lesson. I cant wait to get started with my new business. The resources available thru HSR are invaluable and worth every penny!
Audra's HSR program is amazing! It's very detailed and is something I wish I had found years ago if I weren't to afraid to follow my passion. I took my time getting through the material but remembering my "why" pushed me past my fear. Now, as an HSR grad, I am confident I have the tools to be successful...I'm ready! Thanks Audra.
Kara Whisler
- Midwest Mod Interiors
Taking the HSR certification training was a great boost for my business! There are so many ins and outs to this industry, and as Audra says, why reinvent the wheel? I'd rather focus on delivering results for my clients than being bogged down with administrative setup tasks. Thanks Audra!
Rachel Jennifer
- Rachel Jennifer Interiors
I had previously purchased training through another company and was still struggling on how to fill in some holes that I did not have information on. Then I found HSR. It covered EVERYTHING that I needed to know and answered questions that I did not even know I had. Audra's training was extensive and thorough with no subject left untouched. Her passion for helping home stagers is obvious and the ongoing support available is amazing! Now I feel that I have everything I need to transform my business in to the dream I have had for so long!
Diane Mayo
- Creative Interiors