Staging Business Advice for Dealing with Covid-19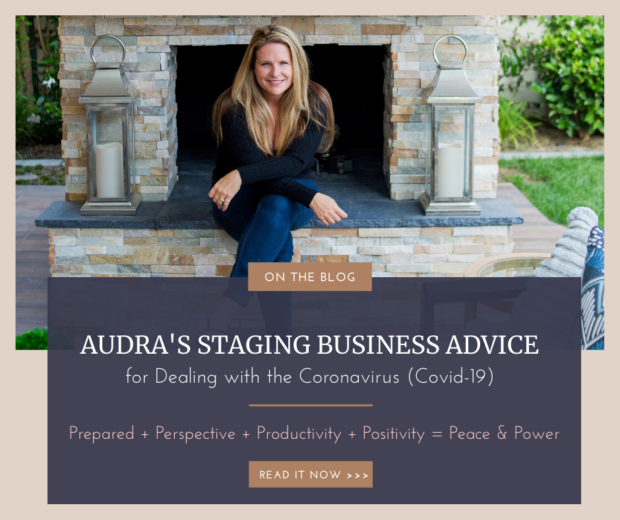 I've thought long and hard on how to approach everything we are seeing on the news regarding Covid-19 in a positive and productive email to you my dear readers.
No doubt, you are getting a lot of these emails but my hope is to take a different and more "actionable" approach that is tailored to the staging/design industry and filled with helpful tips, useful tech tools, free training and weekly inspiration...
First off, I want to encourage you by telling you that this is temporary. This too shall pass (hopefully sooner than later).
We are all in this together. We are all impacted.
Together we can be stronger and while the news shows the negative, I believe all of us has witnessed patience, grace and kindness at our local stores/communities in the wake of this more often than not.
Homes still need selling and staging.
I'm going to try and follow this equation in my business, family and community so I hope that it is helpful to you too...
Prepared + Perspective + Productivity + Positivity = Peace and Empowerment
Prepared...
For your business -
Begin having conversations with your clients, employees and vendors in anticipation of the best way to handle quarantine if that happens in your area.
Contact your clients about how you can still help while social distancing...there's so much you can do using technology (see below)
Use free technology like "Facetime" or Skype to do walk-throughs with your clients. Jody Lovitt, emailed me saying she is already doing "virtual, occupied consultations" and her clients are embracing it...they still need your help and we can pass off our expertise remotely. Have them send you their room photos ahead of time and then schedule the call.
Time to start moving business activities like banking, team communication, etc...online. Hint - An easy way to share your screen and communicate quickly via video is using a free technology called Loom - https://www.loom.com/
Use Google Calendar to stay organized and communicate, use Facetime or Discord to group chat (my son has been using the Discord app a ton to watch movies with friends remotely - https://discordapp.com/)
Use E-Design to move your design clients to remote design and planning. I've reopened last week's webinar on this, so you can see how to do that using Designfiles.co. Click here for the direct link to the replay but ignore minutes 15-20 when I had technical snafoos:-)
Perspective
I've had to have "perspective" conversations with my sons whose friends are still out hanging out with each other while they are "stuck inside". My girlfriend sent this quote to me and it helped my boys put their isolation in perspective AND shift into a more productive mode.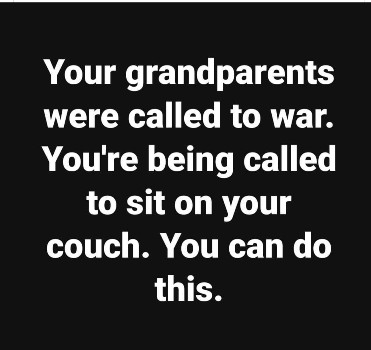 Productivity - I've decided to use this time to refresh my training, refocus on my goals and give back to my community of home stagers.
The first thing I'm going to do is have weekly, "Staging Q & A Virtual Happy Hours" where we are just going to do Q & A sessions, look at gorgeous photos, encourage one another and brainstorm ways to make our businesses stronger, more organized and ready for when this temporary period is over.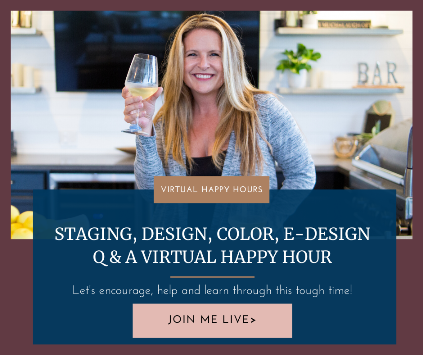 Join me every Wednesday at 3pm (pacific time) at this link:
https://event.webinarjam.com/channel/virtual-happy-hour
Here's some ideas for your business:
Email your clients about this "temporary new norm" and let them know that most everything you do, can be done virtually or with social distancing. Most importantly, the sell of their home is top priority.
Use my weekly goal and activity sheet to make a plan. Click here to watch the training I gave on this in January that I've reopened due to this situation.
Organize your inventory
Photograph your inventory
Rework your website
Set-up a sales funnel on your website for each service you offer
Create your social media calendar
Redo your portfolio or organize your photos
HSR grad Karen Hunter shared that she is creating videos with her photos (you can use the Loom tech for that or my favorite app Ripl (search your app store)
Clean up your contact list - Create a contact list using mailchimp.com or hubspot.com which are both free
Go through that training you purchased but didn't finish:-)
Think about adding staging, color, design or e-design training to your skill set
Here's some ideas for your family:
Work out, bike ride or walk outside together
Do a puzzle (I've got one on my dining table as we speak:-)
Play games
Have Facetime Happy Hours...yes, I've been doing this too with my family
Stay connected most importantly with friends and family
Serve people in need (I've been doing all the shopping for an elderly parent)
Organize those photo albums
Organize those closets or redecorate your rooms
Positivity - This one is tough...but the world needs this from us today and we need this for ourselves.
I will try to be positive and look for solutions...will you help me? Our industry is amazing and I think we can encourage and help one another weekly, so I hope you will join me this Wednesday as we kick off this new series of productive learning!
https://event.webinarjam.com/channel/virtual-happy-hour
Maybe if we do all of those things, we can have more Peace and Empowerment in our lives, businesses and relationships.
Sorry for the long read but I hope you found it helpful!
XOXO
Audra