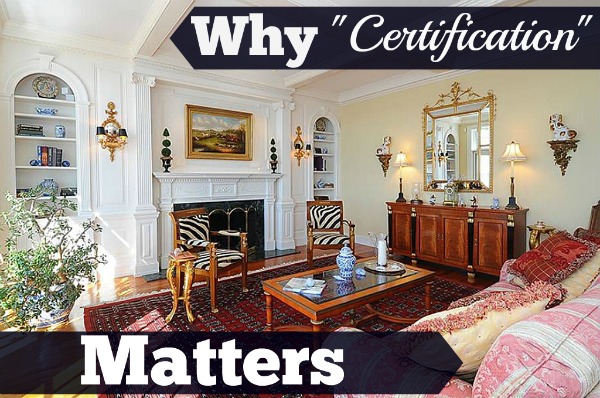 Why Home Staging Certification Matters – 5 HUGE Reasons
Why go through a home staging certification program to become a home stager?  Specifically, why go through our HSR Certification program instead of going it alone or with another company?  I know it's tough to decide which home staging certification course to invest in when just starting out, so I thought I'd list some of our huge differences in this post along with some fantastic before and after photos of a luxury home amazingly staged by JoMcLaughlin Designs…
Here are 5 HUGE reasons why the HSR Certification matters…
1.  We are the only Home Staging Certification program who is constantly adding, evolving and continuing to educate our members WITHOUT charging extra for it.
I just finished posting another hour long video of a home and I thought to myself, "why am I always adding this kind of stuff to the training for free while other trainers would surely charge extra for it?"
If I'm going to represent and deliver a home staging certification program then it has to be on-trend, evolving and growing, so that my HSR certified members are always on-trend, evolving and growing their businesses.
Simply put, Home Staging Certification matters when it grows alongside your business NOT simply something you "completed" years ago.
2.  We are the only Home Staging Certification Program that teaches home staging alongside design and home styling
We are in the design field which is a changing industry especially when coupled with the real estate industry, so it's critical for home stagers to always be learning about both design, staging and real estate!   Which Home Staging Certification program you choose to go with will define you and your business for years to come.
3.  We don't take you into 1 home, we take you into over 30 homes!
The HSR Certification program is online, so it doesn't take you into a home for practice with 20 other trainees BUT instead I take you into over 30 homes and over 30 hours of video in the training because I know that homes are all very different and you need to see it all!  We also have a hands-on, job shadow day where you get personalized training in a real life setting.
4.  You Need to Know A Lot in this Industry, so 10 hours of video or classroom time is NOT going to cut it
Other trainers offer "10 hours of video training" while our training has well over 65 hours of step-by-step videos on staging, styling, branding, marketing, website marketing, realtor partnerships, social media, services, pricing, vacant staging, luxury staging, organization, shopping, window coverings…basically you name it!  We also have over 48 hours of live webinar training available to members throughout the year.
5. HSR Home staging certification matters because your clients know that you have the confidence, education and experience to tackle any project or home!
In the photos above, Jo McLaughlin fearlessly transforms this luxury, waterfront home only months after becoming HSR Certified.  Her story is a common one because once you go through our program, you will be changed.
Before you jump into a career in staging, take our free video and email series by click on image below!