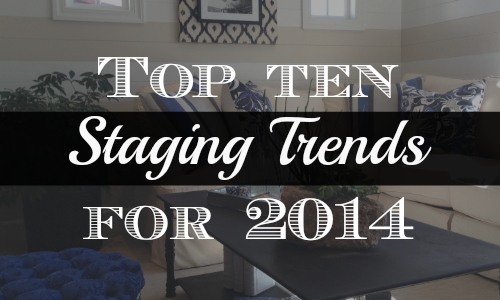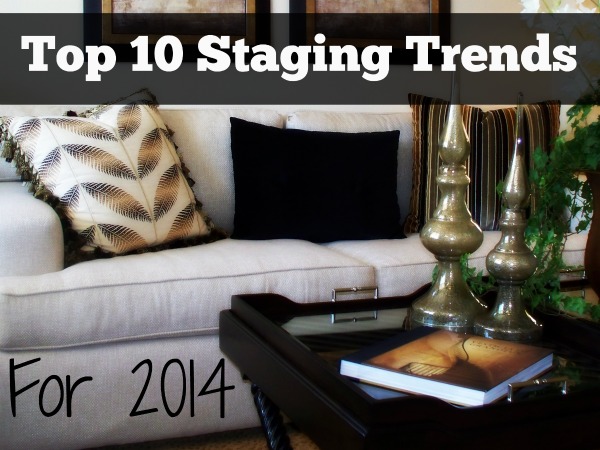 I love design and probably own every staging and design book and magazine available.  I'm really loving the design trends that are driving the staging trends of 2014 because they reflect the brighter economic outlook of sellers and buyers.  When people feel good about their home equity, job stability and market conditions…great things happen in design!  It's no wonder that in a recent Houzz Survey all of the tradespeople (especially designers) were feeling wonderfully, optimistic about their revenue growth in 2014!  There's never been a better time to become a stager and designer!
 1. Staged Outdoor Spaces – Can you imagine what this space would look like without the staging? Yes, it would be cold and dreary. Karen Hunter of http://www.staging-magic.com/, transforms this yard into an entertainers dream come true! Staging is about creating the vision of what life in the home would look like and including the outdoor living areas is critical! This staging trend is probably one of the most essential and I see so many sellers not have their outdoor areas staged. Remember a photo is worth a thousand words, so have the stager stage the outdoor space, take your gorgeous photos and that is what will sell the buyer online. 95% of buyers are online first trying to find the home of the dreams…what do you think this photo would say to the buyer?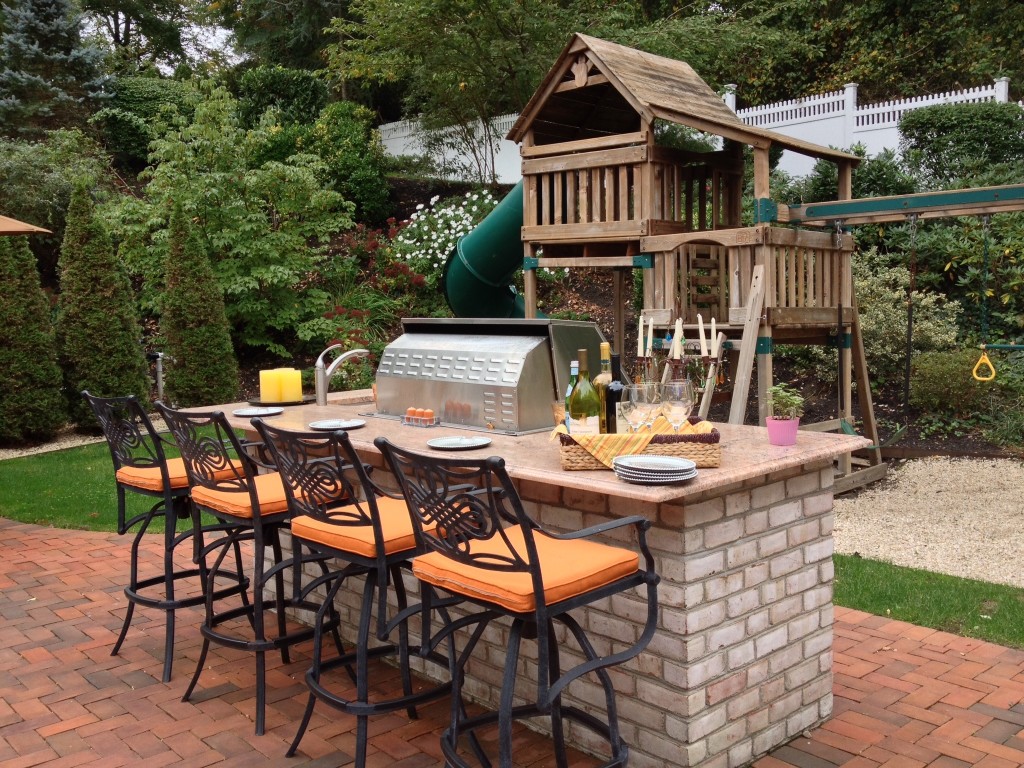 Don't forget to stage all of the outdoor space and especially the BBQ/bar area. The husband weighs in on the home decision and I imagine this staged outdoor area would speak louder than the table area.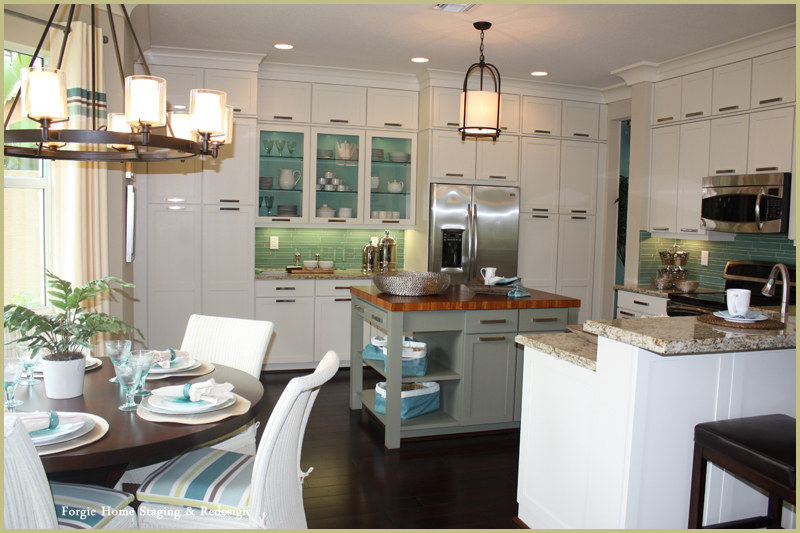 2. White Kitchens – Huge trend now for home owners is light, white, bright kitchens! In a recent Houzz survey an overwelming amount of respondents desired a white kitchen in their home. A professional stager can easily offer this solution at a low cost since the right painter, accessories and accents are what is needed. When the kitchen comprises almost 30% of the buyer's decision (according to NAR) a little more expense in this main area makes a world of difference in price! Elayne Forgie of http://forgiehomestaging.com/, works wonders in this space.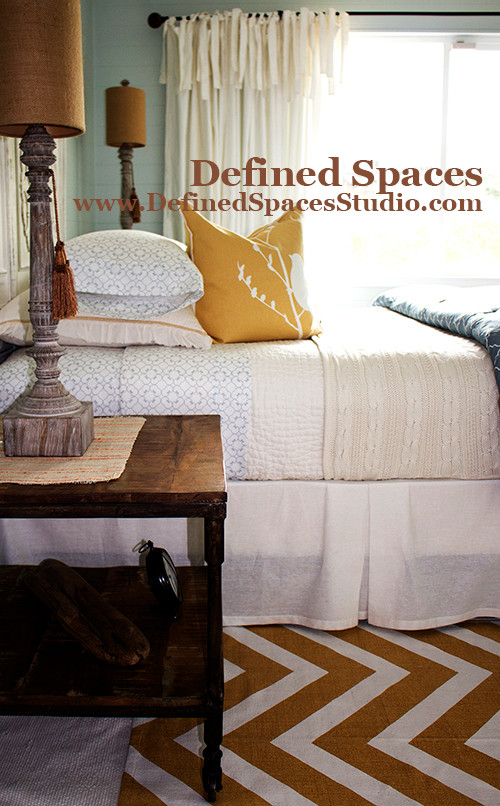 3. Birds On Display – The bird in the pillow is just a taste of what we will see more of in the future. Whereas last year's trend was the white porcelain deer head on the wall and horses, this year's trend is sweet, little birds. I also love how Monica of http://www.definedspacesstudio.com/, used a palette of wheat yellow and variations of blues to create this dreamy bedroom. Okay, I know the chevron pattern is a bit over-used but in this instance it anchors the palette of yellow and blue nicely.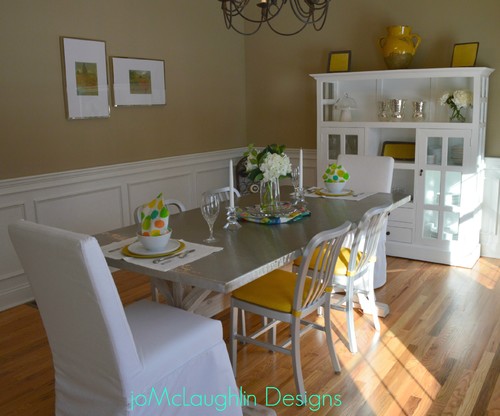 4. White Slipper Chairs and Bright Pops of Color on a White Canvas – White slipper chairs have always been popular but now we'll see more of them in these whimsical settings where pops of bright hues help to modernize the space. This staging and design technique by Jo McLaughlin of http://jomclaughlindesigns.com/, looks great throughout the home as the overall sunny economic outlook reflects the bolder color palettes people desire. I also love the metallic framed art which is also very popular right now whether silver (as in this photo) or gold.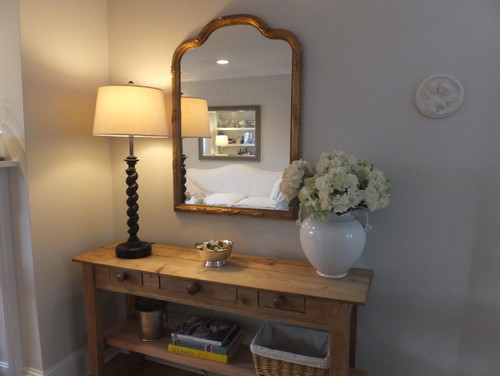 5. Speaking of gold….the next big trend is warm gold/brass accents – Framed mirrors, art or brass bar carts add warmth and sophistication in any room. Carmen Cuesta of C.C. Loeb Interiors beautifully displays an old wooden table with a touch of vintage and greenery.  Certified Home Stagers and Home Stylists have many inexpensive tricks they use to add glamor to a space using what home owners already have.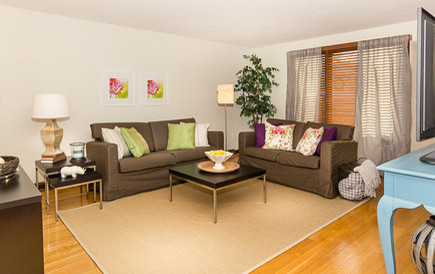 6. Purple Accents in Small Doses – We all know that the Pantone color of the year dictates future color trends (that's why we're seeing so much yellow and turquoise now manifested in design (Pantone's past colors) but this year's Radiant Orchid I believe will be best seen in small doses in living areas (as in this staged living area by Lisa DeFrancesco of South Shore Staging and Photography, http://www.ssstagingandphotography.com/.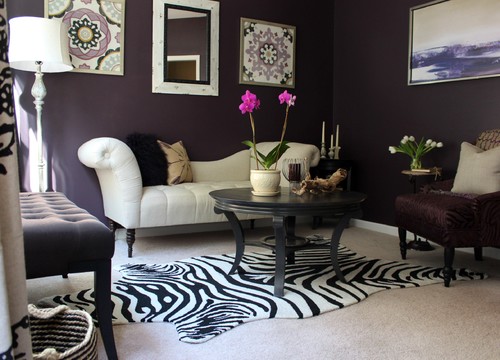 And while you won't see Radiant Orchid on the walls in the living areas of truly staged homes, you will see it in beautifully redesigned/styled homes. Susan Batka of Aerie Interiors, http://aerieinteriors.com/ creates a sensual and inviting space for the bolder client. The zebra print rug really helps to anchor the space and look.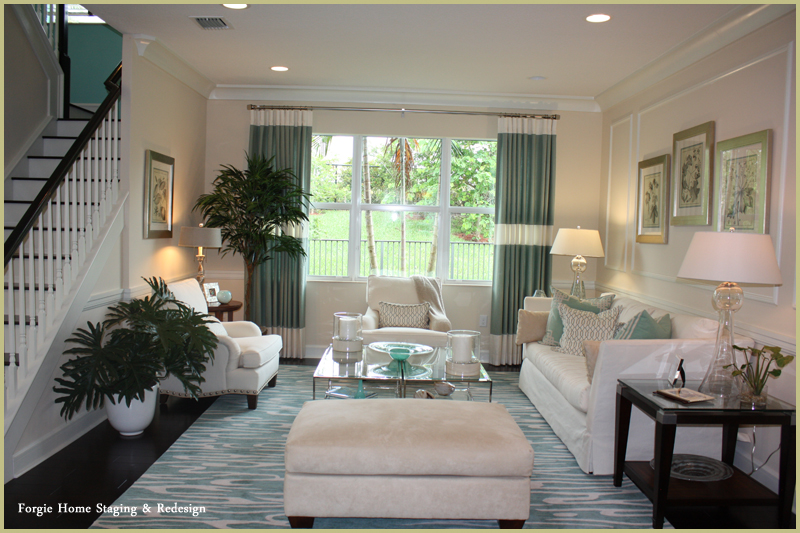 7. Dual Coffee Tables – placing two coffee tables next to each other to scale a larger space is a much better staging solution than just one.
8. Clear Tables, Chairs, Lamps and More – Glass has always been an excellent staging tool because of it's reflective nature and ability to create more light in what would probably be a dark space. Elayne uses glass tables, glass hurricanes and glass lamps to move the minimal light throughout.
White is Right in Big Doses – While white kitchens is the hottest kitchen trend, white also sells when it's in an 80% dose as in this living room.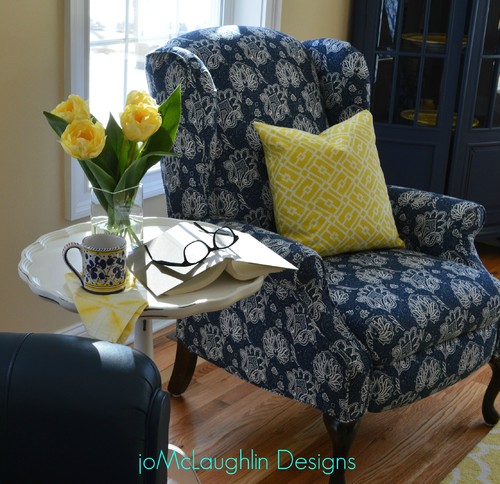 9. The Navy Comeback – Navy blue is making a come back in a huge way!  Navy just stole our hearts originally via patterns like chevron, ikat and floral (as in this chair) but now it's really making it's presence known as a "new neutral" that pairs well with yellow (as shown), turquoise, coral, chartreuse, wheat …basically all of the bright 2014  on-trend colors that add pop to a space. Navy is one of those versatile colors that can work with bright or earth tone accents (just open your latest Pottery Barn catalog to see it with earth tones).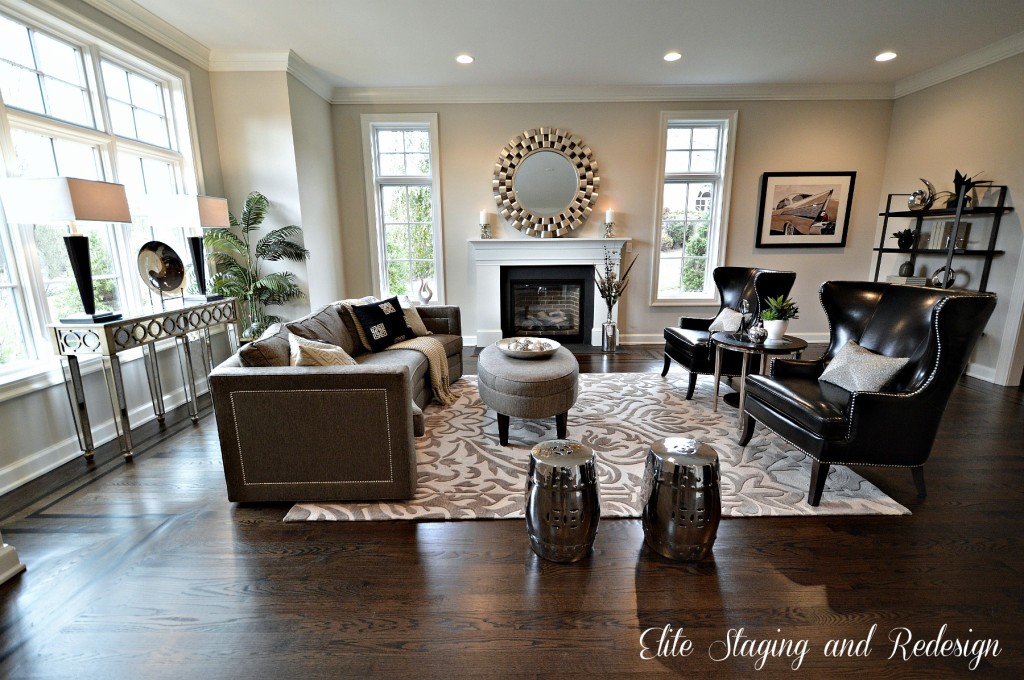 10. The Statement Piece Over-sized Chair – There are so many things I love about this staged space but the dramatic, over-sized, wing-back chairs are my favorite. Every space needs that one thing that makes the buyer go "wow"! Kristine Ginsberg of http://www.elitestagingandredesignmorriscountynewjersey.com/, the USA Top Professional Stager of the Year invests in luxury accessories that create harmony and sophistication in her spaces.  Plush elements like the platinum garden stools, mirrored console and geometric lamp shades serve to pull together this space.
In a new Houzz Survey all of the tradespeople (especially designers) were feeling wonderfully, optimistic about their revenue growth in 2014!  There's never been a better time to become a home stager and designer!


11. Non-Matching Chairs Around the Dining Table to Create Interest and Memorability – Those of you who are familiar with my staging and design training know that I never stop at 10, so here's another trend I think will play strong in the staging world.  You can remove the end chairs in a formal dining space to create space and to also take a great, real estate photo head-on OR add unique, statement piece end chairs to take an interesting side photo of the space.  Remember, staging is always about the best photo since 95% of buyers are online first, so pick the shot, then stage it.
Here are my Top Ten Staging Trends for 2014 in Slide Show Format
I'm really loving the design trends that are driving the staging trends of 2014 because they reflect the brighter economic outlook of sellers and buyers.
What are some other trends that you are seeing?
Save