5 Reasons Stagers Should Become a Redesigner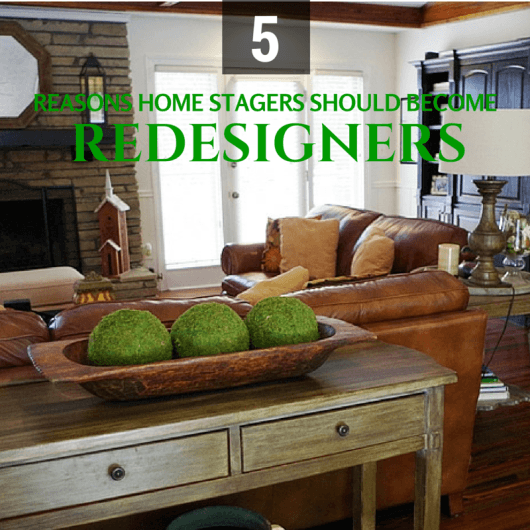 I always say that the relationship between "home staging" and "redesign" is like two sides of the same coin.  They are very similar services but the "WHO" of the design element for the redesigner is very different.
What separates staging from redesign is whether we are designing the space for the buyer demographic or the home owner?
What's the difference between interior design and redesign (or home styling)?  Redesign always starts first with using what the home owner already has and loves to enhance the space.  In fact, a great redesigner can literally work miracles in just a day in the home!
So why should a home stager also be trained in the art of redesign?  Here are 5 great reasons along with some fantastic redesign photos done by Debbie Simril of Debbie Simril Interiors…
1.  It's an Easy Up-Sell for Redesigners
Statistically, sellers are much more inclined to spend money on the home they are moving into rather than the home they are moving out of, so it's a much easier "sell".  You've just staged the seller's home to sell, so they already know you, trust you and like you.  This should be a no-brainer for home stagers but I find that they just are not "positioning" their redesign business correctly, so they are missing out on huge income returns!
2.  Being a Redesigner is a Great Way to Keep a Favorite Client
We all have had those client's we just LOVE, so why not keep the relationship going and work with them on their next big project?  Focus on quality relationships rather than quantity while building your design network of great referrals!
Remember to have a special business card you can hand to your favorite client's as a thank you for being so wonderful to work with.  In the example I created below, you can put your business information on the back and hand write the discount/message you wish to give your clients.
3.  Design is More Lucrative
Yes, I said it…you will make more money if you position your business for BOTH staging and redesign.  Redesign projects tend to last longer and have higher dollar amounts then the average staging project.  I've been training stagers for more than 10 years now and I can comfortably say that my long-time veterans are now doing more redesign/design than staging (unless they focused on a niche).  Why is that?  Because they positioned their business to market first staging then second, redesign.  They followed my business model of doing both staging and redesign!
4.  Design is HOTTER Than Ever!
Yes, the career outlook according to a recent Houzz survey shows that the design industry is feeling more confident than ever!  This isn't a huge surprise because it mirrors what is going on in the staging industry…when home values rise, so does home improvement spending.
5.  The Perfect Business Model
A lot of stagers who join my training program tell me that they were always slow in the fall/winter season since their business reflected the real estate industry lulls.  Ironically, redesign and design picks up in the fall and winter as people decorate for the holidays, so having a business model that incorporates redesign and holiday design makes for a well-hedged business model.
Finally, this is what Debbie Simril who after 15 years in the design industry decided to take the plunge and sign up for our HSR Certification in Home Staging and Redesign: