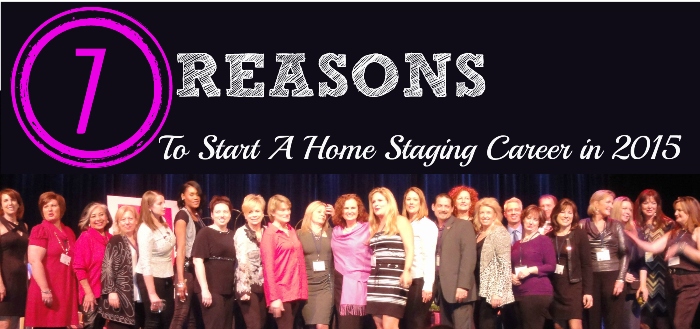 7 Reasons to Start a Home Staging Career
I just got back from Las Vegas and the RESA Convention and my ears are buzzing with all the excitement and enthusiasm from home stagers across the globe.  I've been doing staging training for almost 10 years now and I can truly say there has never been a better time to start a home staging career than now!  Here are my 7 quick reasons why this is the best time to start a home staging career but I'll have more to report on the RESA Convention in coming blogs:
1. Home Stagers are Busier Than Ever!
Yep, the general consensus from the over 350 professional stagers at the RESA Convention is that they are BUSY.  Their phones are ringing and they are staging and doing redesign like crazy.  This isn't too surprising because of the next handful of reasons but to say that 2014 was a good year for starting a home staging career, as well as staging statistically is an understatement.
2. The "Body of Work" is Better Than Ever!
When you look at the RESA Industry Awards and the amazing work these stagers do every day, you will truly become a believer in the benefits of staging.  Michelle Minch, a Los Angeles Stager and 2006 Home Staging Resource Graduate, was the overall winner in 2015 for her gorgeous vacant work which is sampled below:
When stagers do amazing work, real estate agents, home sellers, home builders and everyone else take notice.  The listing photographs stand out and these homes get the best price!
3.  The Redesign Side of the Staging Business is Booming
When I started the Home Staging Resource almost 10 years ago I knew that I needed to add Redesign training as well…great staging turns into move-in redesign.  I was the only staging trainer at the time (and even currently I believe) who incorporates both certification in staging and redesign into the training business model which is essential.   According to a recent Houzz Survey of 6,500 home professionals over 90% expect their business to grow!
4.  2014 Statistics on Home Staging are Better Than Ever
Those of you familiar with my blog know that we polled over 350 home stagers and 3500 homes sold worldwide and asked them (and their agents) two critical questions:  Are professionally staged homes selling for  more than not professionally staged homes?  At what percentage increase on average are they selling higher?  While the responses varied, on average the homes that were professionally staged in 2014 sold for 10% more than the homes that were not professionally staged.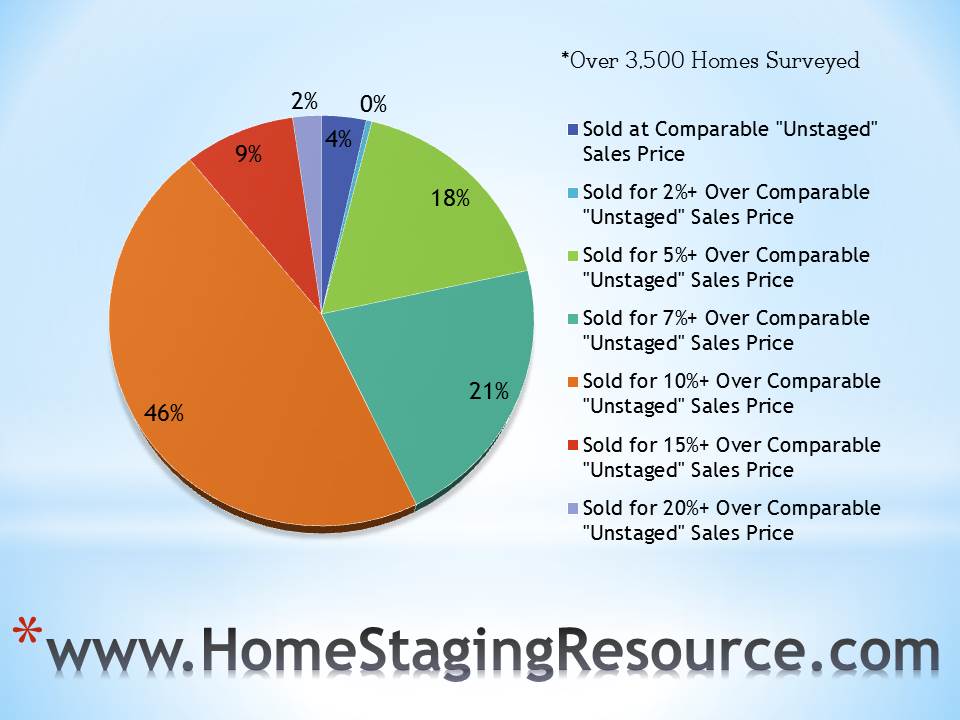 5.  Home Staging and Redesign Training Has Never Been Better!
The training for staging and redesign has never been better!  In fact, did you know that almost every one of the staging award finalists in the US categories (and some in the Canadian) are part of my Staging Mentors program?  We now have so many wonderful, generous mentors I don't even list them all on the site.  The Staging Mentors program which is the third package in the HSR Certification training won for most Innovative Product or Service of the Year in 2015 at the RESA Conference! 
Here's a picture of me hugging my award at the Conference…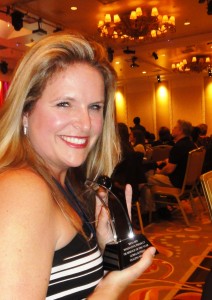 Not only has my training improved over the years, but I know that others have as well because we keep each other sharp and motivated.  Most of all, we love to see our students succeed!  I love what beautiful Kristi Barnett is doing in her psychological staging and tricky space trainings!  Here's a photo of us on the red carpet:
6.  Stagers are the Best, Most Generous and Fun People in the World
Okay, here's where I may be a bit biased but I have to say that home stagers as a whole, are a very fun, hard working, innovative, kind group of people with hearts of gold!  There is an enormous amount of respect we give to each other and our clients.  Stagers are fueled by their passion in design and their perfectionist personalities.  Here's a photo from the RESA Conference of some of the HSR Grads over the last 10 years who I've had the honor and privilege to be a part of their training.  As you can see, we are still having fun up on stage chit chatting…
Here's another of some of the gals who missed the photo up on stage:
And another fun photo of our yearly HSR networking event where I buy drinks for all my grads prior to the conference.  Even the bartender commented on what a nice, fun and cool group of people we are: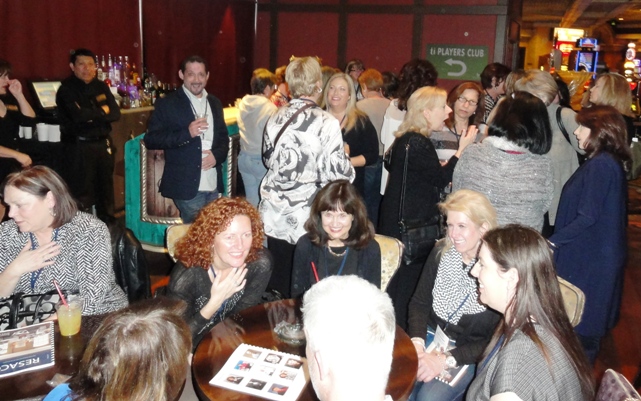 7. HGTV…Need I say More?
I would be a fool if I didn't acknowledge that the rise and popularity of HGTV and websites like Houzz give people motivation to put beauty into their homes and buyers a "vision" of what they want to see in their next home.  The professional home stager is the person who makes that vision a reality!
So if you're sitting on the fence and wondering if 2015 is your year to have a home staging career…just do it! I've never heard anyone have regrets going into this incredible industry but I do hear people regret not getting into it sooner or getting the right guidance.
XOXO – Happy Staging!
Audra Slinkey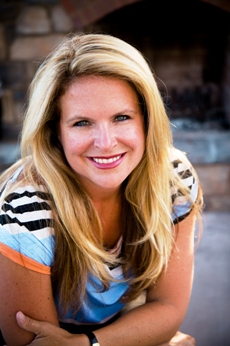 Hope to hear from you!
1-888-563-9271
Not all professional stagers are equal! Our HSR Certification training was the first and one of the only staging and redesign training programs that has been third-party, accredited by the Real Estate Staging Association, so invest in the best!
Ready to Become a Successful Home Stager and Redesigner?