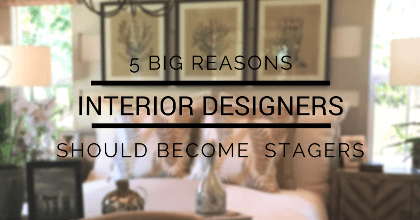 I love this video testimonial from Michelle Minch of Moving Mountain Designs who is also a RESA Stager of the Year and is killing it in the Los Angeles Area as a home stager! Michelle started out as an Interior Designer and took the HSR home staging certification training thinking she would add staging to her business...boy did she get more than she bargained for!
Here's 5 HUGE Reasons Why Every Interior Designer Should Be a Home Stager...

Easy "Target Market" to Find and Market to...
Who is an Interior Designer's business target market? New home owners and people considering a remodel or design project. Are these people easy to find? Not really.
The Home Stager on the other hand has a target market of Real Estate Agents who are very easy to find online (and off) and very easy to target.

A Target Market that Continually Feeds You New Business
Did I mention that having a handful of Real Estate Agents who use you on every listing they get means you are continually getting new business without having to lift a finger?

That's right, the HUGE business model benefit to working with agents is that this target market will actually do the marketing for you since they will need you multiple times. The interior designer's target markets do not continually feed them new business.

"First Crack" at the Designers Best Target Market
Every GREAT staging job should turn into a new move-in design job when positioned correctly! The home stager has the best opportunity at connecting with the home seller who very soon will be a new home owner and want help remodeling their new space.

This is one of the biggest reasons the HSR Certification Training program goes over BOTH the staging and design business models. This HUGE advantage is what makes us different from other training companies because we understand that beautiful staging leads to new design business and we want you to be able to handle all of it!

An "Economy Proof" Business
Remember when no one was spending on "luxury items and services" during the down turn? Guess what? They were still spending on home staging because if they didn't professionally stage their home, it simply would not sell.

As the longest running, online staging and design training provider who has been through every economy I can safely tell you that staging is an "economy proof" business when positioned correctly.

Less "Measuring" & More Fun!
Many of my HSR members have left the interior design industry and jumped in the home staging industry because they said it was just A LOT more fun! Design typically is a higher risk, higher capital, bigger stress profession that has a longer sales cycle whereas staging is an "in and out" profession where clients see huge results right away.

My X-Designer members tell me they like creatively working with what their client's have to make rooms beautiful rather than the tedium of completely redoing a client's space or measuring the exact cabinet size to fit a kitchen, etc....

There are many more benefits of adding staging to the Interior Design business model but those are just a few "biggies".

FREE Video on What it Takes to Be a Stager...
Could
"
Home Staging" be a Career for You?

---
Don't miss this..!!
7 Key Questions to Ask Yourself

What the Cost is to Starting this Business

Do You Have the Personality for This Industry?

How You Know If You Have the Design Talent?

Every Interior Designer should consider adding home staging to their list of services and here are 5 GREAT reasons why designers should become home stagers…