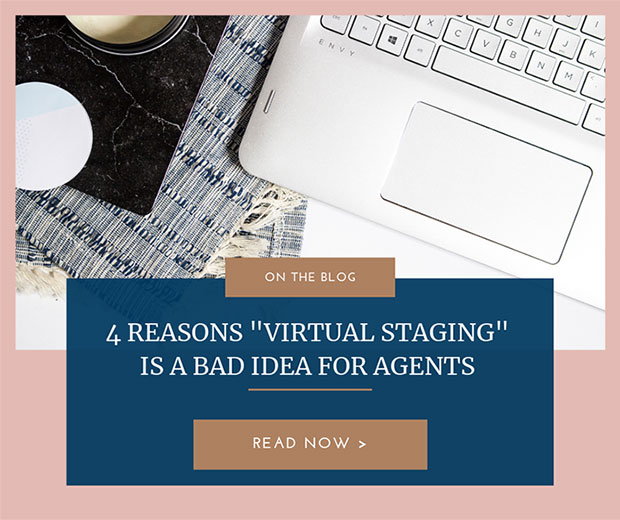 There's been a lot of chatter in the staging and real estate community about "virtual staging" so I thought I would give my two cents on the matter. While virtual staging has been around for several years, it's making a bit of a comeback with the popularity of e-design and there is confusion between these two terms.
Before I jump in, let's be clear on WHAT virtual staging is and what it isn't...
Definition of Virtual Staging - ​Virtual staging is when photos of rooms in a home are altered and/or digitally edited to add/remove furnishings, features or paint color, for the benefit of online marketing in the multiple listing service (MLS) so that home buyers will be inclined to come to the home.
Some real estate agents are turning to virtual staging to save a buck and get "digitally staged photos" even though the rooms themselves are not staged.​ The photos are altered.
Virtual staging is VERY different than e-design in that e-design images are not meant to go on the ​MLS but used to show clients a design plan or mood board in a space before they commit to design purchases.
In fact, I'm doing a free, live webinar on "How to Make Money with E-Design" that I would love for you to join me on...​
Do you see the difference there?
Virtual staging on the other hand is about staging the rooms DIGITALLY, so the photos online look good and buyers will be attracted to the space.
I see people confuse e-design and Virtual Staging, so I want to be very clear that when I talk and train on e-design, I'm not advocating virtual staging but teaching a wonderful way for designers and stagers to use technology to provide a visual to clients for their design plan (not MLS photos).
​
So...now that you are clear on that, let's talk about why virtual staging is probably NOT a good idea for agents or stagers to use or advocate.
Here are 5 reasons why virtual staging is a bad idea...​
Most Virtual Staging Photos Look Fake
Technology has come a long way in this regard BUT by in large, even the BEST virtually staged photos have a bit of a cartoony or out-of-scale feel. Watch my Facebook Live video below to see the example photos I compare to real life staged photos.
Virtual Staging is a HUGE Let Down When Buyers See the Space in Person
Let's be honest...buyers don't make offers based on MLS photos alone. In fact, they view on average around 12 homes before making that coveted offer. Do you think the buyer will be happy to walk into a home that was virtual staged only to find it looks completely different? I like to describe virtual staging as the ultimate, in-person, buyer let down...
Some Would Say Virtual Staging is Deceptive
Like I said, virtual staging is not new to our industry. When we discussed the pros and cons of virtual staging in Stagers Connect (our private, social network for HSR grads), there were several negative stories told how buyers felt deceived and lied to when entering the home. Buyers had an expectation and felt betrayed by the agent when the rooms were clearly digitally mastered to appear better than in real life.
Agents Could Get Into Trouble Potentially
One stager who was a real estate agent commented that if it's not completely disclosed in the MLS commentary, an agent who uses virtually staged photos could be in violation of Article 12 of the Realtor Code of Ethics which speaks to this practice.
Okay, I can't just stop at 4 reasons since this one is a doozy...​
Virtual Staging is Not Staging At All because it Completely Lacks Emotion
A well staged space is meant to evoke strong emotions in the home buyer. Staging is more about merchandising the space for that emotional connection that comes when the buyer wants to make an offer. While digitally altered photos could appeal online to the buyer, when they go to the space in person...that emotion is completely lacking due to the fact that the space is bare.
If you're a home stager trying to have a discussion with your agent partners on why virtual staging could hurt their business, I hope this post helped out a bit. I hate to bash anything or be negative about a service but this is my opinion on the matter based on years of experience with that service.
While it could be more affordable to an agent to virtually stage rather than pay for ​actual staging...the actual cost to their business and reputation is probably not worth it. I would recommend leaving the space bare before putting up photos that create a false hope in the buyers personally...
I recently did a Facebook Live on this subject, so here's the video of that event...
There's been a lot of chatter in the staging and real estate community about "virtual staging" so I thought I would give my two cents on the matter….I think it's a bad idea.  In fact, here are 5 reasons why virtual staging is not a good idea for agents…