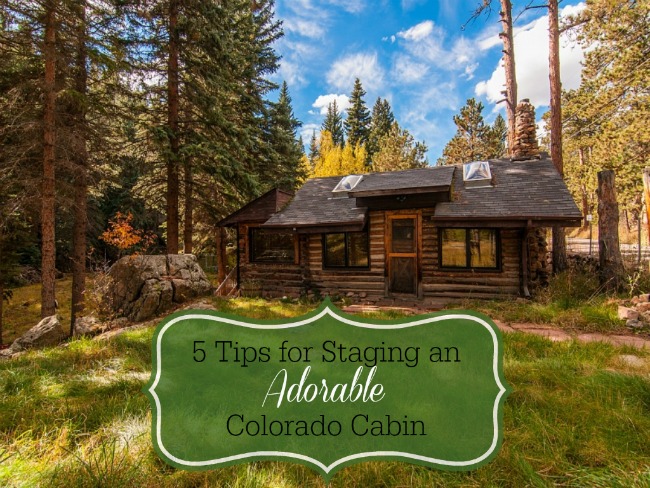 5 Tips for Staging a Colorado Cabin
Who doesn't dream of owning a cabin in the woods?  This little 698 square foot, 100 year old cabin  in Colorado was so sad until Kimberly Stark of KS Creative Staging in the Colorado foothills got a hold of it.  "It is still Incredible to me that I get paid for having this much FUN!!!" says Kimberly who has staged 6 properties since starting her business in July.   Here's what the cabin looked like before Kimberly got a hold of it:
This sweet cabin went on the market on a Thursday, got into a bidding war and sold within 72 hours for OVER asking price!  I'm seeing these kinds of home staging statistics all the time in the 2014 staged housing market.
You can learn a lot from looking at Kimberly's before-and-after photos, so here is my five tips for staging a Colorado cabin in the woods.
1.  Stage for Cabin Style
Staging is an art form and the first thing every professional stager does is get a read on the "home's integrity" or style.  As you can see from the photo above, this is a classic cabin and has to be staged in that manner.  Staging for the style of the home may seem like common sense but so many times I see the opposite done ie. cottage home staged as a contemporary.  The home will give the stager clues as to how we should merchandise the space and a cabin needs to be staged as such.
2. Use Organic Materials Like Leather, Cowhides, Cottons, Plants and Wood
I can't think of very many situations where I would recommend staging with a leather sofa BUT in a cabin…it absolutely works!  Here is another view of the leather sofa with cowhide pillow and textured throw which really works in the space.  You can also see how tiny the cabin is, so using a couple pieces and not crowding the space is essential.
3. Use Lot of Soft Furnishings to Break Up the Wood
You can see from all the photos that Kimberly placed pillows, rugs, place mats, runners and other soft furnishings wherever possible throughout the space.  This helps to break up all the wood or hardness that you see from the before photo.  She also cleverly uses wild flowers from the yard as a prominent display in the room and a reminder to the buyer about what cabin living is all about.
4.  Multipurpose Furnishings to Maximize Space
As you can see, this cabin is TINY, so it's critical to show buyers that while it's small, it's still very livable.   Above is the before photo of the bedroom half of the cabin which you can see would be very hard for the buyer to imagine both a living and bedroom in this space.  Using a futon couch one can see that there is room for a fold out bed and TV watching.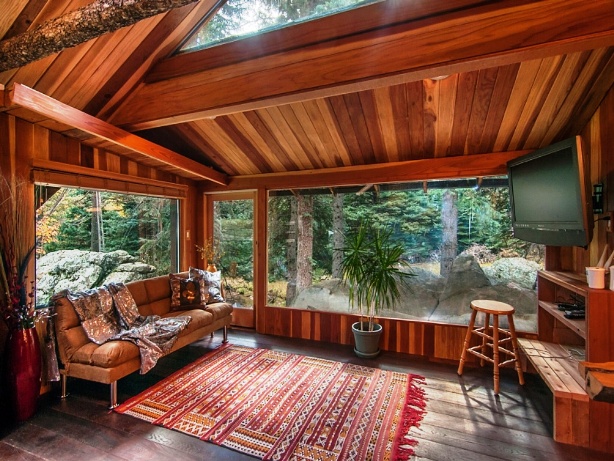 5. Bring the Outside In and Create Imagination Zones
In the photo above you can see that Kimberly put up all the blinds and really let the light in, as well as displayed the views and greenery from outside.  With a remote cabin in the woods, do you really need privacy blinds throughout?  In the photos below, you can see how she even staged the outdoor area by adding a hammock by the running creek.  What buyer wouldn't want to take an afternoon nap in that hammock and just "get away from it all"?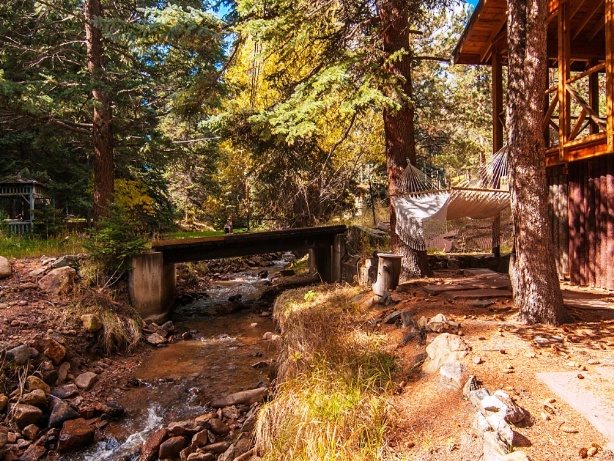 Creating harmonious and beautiful spaces is the fun part of being a home stager and redesigner!  Seeing your work get multiple offers and the huge smiles on the agent and seller's faces is worth the effort.  Here's what Kimberly had to say about becoming a stager and going through the HSR training:
Audra – I am thrilled you think my story is worth sharing!!! But looking back just a few short months ago, when my Broker told me "I know you can do this, but the only person in the room today that doubted your talent was You!";  I am certain there are others who also struggle with self-confidence and doubt; if I could offer even the smallest amount of encouragement to take that First step, it would bring me joy! Right before I enrolled in HSR, a close friend, with whom I had talked to about becoming a Stager, sent me an email that said "Live in Love; Delay no Joy"…..I decided I had delayed my Joy for too long and immediately enrolled…….and as over-used and perhaps corny as it may sound, it has truly been life changing!  When I got my first "paycheck", after the Client handed it to me….do you know what I said???  "Oh!!!  This is too much!!!"  and he smiled and said, "No! it isn't!"  Seriously, what is the matter with me?

And just to let you know, the Broker with whom I work, she is the one who encouraged me to get my Certification,  said the difference in my Staging Presentation from when we first started working together (before HSR)  to last week's was an Amazing transformation; she said I was Awesome and the confidence I now had was evident!! She also told me she "loved" everything I did and the Sellers felt the money they spent was "well worth it"!!!!!  Additionally, her Buyers for another house I staged, have asked her to contact me so that I may assist them in decorating their new home!!!!  They are from Texas and want a "true Colorado Mountain retreat"!!!! I just cannot put into words how grateful I am to you for starting HSR and making it available to so many of us!  Talk about Living The Dream!!!!
With kindest regards – Kim Stark
Thank you Kimberly for another home with a happy ending!