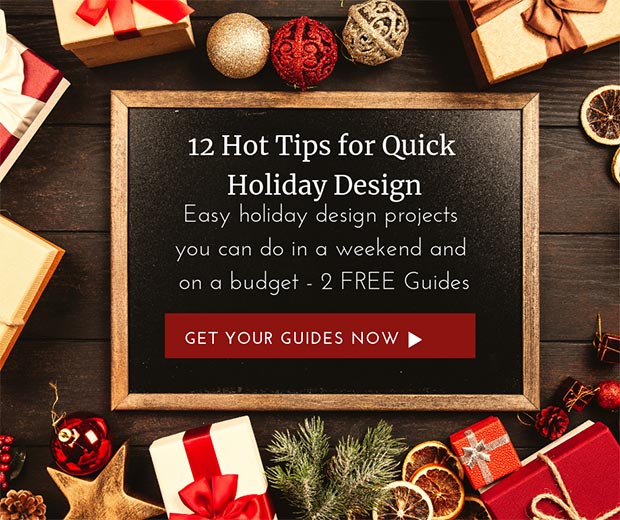 Having company over for Christmas? Here are my favorite, downloadable, Christmas decoration "hacks" that are super easy to create, look beautiful and fit the budget...
We used our E-Design Boards to create visual examples of easy ways you can decorate for Christmas on a budget. Feel free to download these Guides and use the shopping links (or visit your local stores that are listed) to get these essentials.
​
7 Quick Christmas Decoration Hacks You Will Love
As you can see from the image above, it's not hard to repurpose a lot of what you already own to create a more festive space. It's the little details in these quick projects that bring a smile to my face. Click on the image below to download the full Guide with Shopping links...
---
Want to get more inspired with some vintage, trending, holiday updates? Here's 5 more holiday decorating updates that are oh so festive...
Buffalo plaid is trending this holiday and you saw it in my last post in pillow covers and a stuffed reindeer but why not as a table runner centerpiece too? Vintage items are also trending, so the printables, red truck and wooden ladder decor will fit right in with this year's nostalgic Christmas...
Maybe you just need some guidance on how to make your dining room table sparkle. Here's some curated dining table centerpiece ideas to inspire you...
Enjoy these free downloads and enjoy your holiday season!
Christmas is right around the corner, so here MORE, AMAZING Christmas decorating "hacks" you can do quickly to festify your table tops, dining room chairs, entry way and stairs…