Test buy page work
Staging & Redesign Certification
A-Z Blueprint on Becoming a Successful Stager
$999
See Payment Plans &
Full Details in the Tab Below
Advanced Color Certification
A-Z Blueprint on Becoming a Color Consultant
$749
See Payment Plans &
Full Details in the Tab Below
Add-On Items to the Trainings
Websites, Hands-On Mentor Days, etc...
Add a Premium Website or Hands-On Staging Day to Your Training Order!
See Payment Plans &
Full Details in the Tab Below
home staging & design training

advanced color training

a la carte add-ons
Become An HSR Certified Professional Home Stager & Redesigner
No Other Training Can Compare to the Depth of Resources, Materials and Value We Provide to Our Students...Don't Settle For Less When It Comes to Your Business Success!
Save Over $100 With Our Full-Payment Plan!
Two Payment Plan
HSR Certification in Staging and Redesign

Membership & Access for a Year

Pay $599 today and another $500 auto-billed in 30 days



---
Best Price When Paid In Full Today!
HSR Certification in Staging and Redesign

Membership & Access for a Year

Save Over $100 & Buy Today!



---
Three Payment Plan
HSR Certification in Staging and Redesign

Membership & Access for a Year

Pay $419 today and $390 every 30 days for 2 months



---
Audra has sincere passion and dedication to the staging industry as demonstrated through her training. I chose to embark on this journey with Audra as a trainer because I like her realist approach to business, her positive attitude, and attention to detail in her training materials. Education and learning is a necessity for me as I am curious by nature. Audra far exceeded my expectations as I learned more through her course then I could have anticipated. Thank you, Audra.
Amy Beers -
House of Sheldon
I've been staging properties for the last 3 years and have always wanted to go deeper in this business. Until now, I didn't feel I had enough training to turn my love of redesign into a real business. HSR has given me the training, the forms and the confidence to move forward. I can't wait to see what is ahead!
I absolutely loved your training. I feel very confident about staging now and feel your training has equipped me to be successful. You have given so many wonderful and useful business advice as well. Loved taking your class!!
Kelly Rhee -
Pink Diamond Staging & Design
Audra's program is fully extensive, with a plethora of real-life examples to learn from. She doesn't hold back on any industry secrets and really shows examples of great staging and explains road blocks, and pitfalls to avoid. She really covers everything and makes it fun and easy to follow.
Jenine Porvin -
Modern Desert Interiors
I can not say enough good things about this training. I know a lot of people say that and it's so very true. Can't even imagine how many hours Audra has put into this EXCELLENT training. Definitely worth the price! I would have NEVER had the confidence before to make my dream come true. Now I can honestly say I do and more than I ever thought I could. Thanks Audra for this AWESOME training and the confidence to be able to follow my dream.
Andrea McAtee -
McAtee Staging & Redesign
I just completed the HSR training which is by far the best certification program out there!!! I researched a lot of the staging training companies, and you will not receive all of the knowledge that Audra shares in any other program. You get so much information and resources that it is mind blowing. I can't wait to get my business up and running!!
Cristy Smith -
Elan Staging & Redesign
This training was so much more then I ever imagined it would be! The information on how to market and brand my business was real eye opening for me.
Caryn Irwin -
Staging & Design Caryn
I have been staging for over a year and I learned so much more than I ever knew about the business side of staging. I also learned about working in a more professional way with my clients. I was good at staging before, now I am going to be GREAT!
Tricia Bass -
Tricia Bass Beautiful Homes
The HSR training is amazing! Lots of valuable information has been covered. very organized in terms of the flow of the material. Moreover, having all the forms and instruction is a treasure to an organized business kick off ! Audra, I am thankful to you for all you have done over the past years to give Home Staging a national and global reputation and credit that it deserves.
Atusa Darani -
Atusa & Company
The HSR training has been phenomenal! The thorough and easy-to-follow videos, readings, and handouts have helped me feel very prepared to launch my staging and redesign business, even with very little prior staging/styling background. Well worth it!
Brooke Craig -
Brooke Craig Interiors
Going through the HSR certification training has been a total game changer. I have gained so much knowledge, not just about staging but how to run your business. The staging part I had down pat. However, I know now that my business would have suffered on the marketing (web design, presentations, bold, etc) end had it not been for HSR.
Amy C. Scarborough -
Happy Is The After
I just completed my training! I must say, this training was very informative, very information packed, and very helpful. You would be hard pressed to find a comprehensive step by step guide to setting up your own business anywhere like this! Guys, this is your business wrapped in a bow! Can't get any simpler than that! Thank you Audra 1000 times over!
Jacqueline Tillery -
JST Real Estate Interiors
I have been in the home staging industry for almost 10 years and until recently I didn't think having formal training was necessary. Audra provided me with invaluable advice in terms of marketing strategies and alternative revenue streams! I cannot wait to implement what I've learned and grow my business! Thank You Home Staging Resource!
Jessice Lynn Smith -
Spotlight Staging & Design
HSR training is comprehensive, professional and not for the faint of heart. This program not only trains you on the fun design side but takes you into a realistic, functional marketing program that will make your business not only successful but optimal for resale down the road. Thanks for all the information and all the possibilities that await me.
Mary Redwine -
Rain Tree Staging & Design
Audra, (and team ) I would like to thank you but words will not convey. I have always worked in a creative businesses and bought /refurbished many homes. I am always the go to friend for design advice and I too pour over local real estate, yet I had never thought of staging ( vacant's ) . After starting this course I can see the need in my area and I am hopeful that with your amazing training and CAN DO ATTITUDE I can make it work... thank you....
Dana Denton -
A Bungalow Design
I can't say enough good things about HSR training. Its a pleasure to have joined such a complete program. So much material is at your finger tips to make even a beginner like me succeed.
Charlotte Bullock -
Bullock Design and Staging
HSR's certification training exceeded my expectations, it is a very complete training and covers everything, the business part, marketing and the staging/redesign part. I feel way more confident now. Honestly, before I started the training I had no idea how to begin my business! Now I feel confident and have no doubts that I will be successful! Thanks Audra!
Flor Lydna -
Transformations Home Staging
HSR's training and certification program was exactly what I needed to help me turn my design hobby into a business. Audra's wealth of knowledge and experience is invaluable, and I am so glad I chose this program to jump start my home staging business.
Elizabeth Pollard -
EP Home Staging
Amazingly helpful! It was easy to follow the program, and Audra was delightful to listen to. I highly recommend this training for anyone with a passion for design and home staging.
Christine & Paula -
Design Sisters Home Staging & Redesign
The HSR program was extremely comprehensive. Audra provides everything imaginable to set the foundation for a successful staging and design career. Her expertise in business, marketing, and the digital world makes this program stand out.
Julie Martin -
Haven Staging & Design
Wow! The certification is very in depth, way more than I was thinking. I will have to say "I really got my money's worth"!! You (Audra) cover every little thing. I'm very pleased with everything. My husband is also! He brags about me every chance he gets. We are really looking forward to starting up our own business together. I hope to be able to employ my two grown sons and my husband one day. I t may just be sooner than we think! That would be my dream come true! A BIG THANK YOU Audra! You are awesome!
Carol Church -
Decorating Chick, LLC
Audra's HSR program is amazing! It's very detailed and is something I wish I had found years ago if I weren't to afraid to follow my passion. I took my time getting through the material but remembering my "why" pushed me past my fear. Now, as an HSR grad, I am confident I have the tools to be successful...I'm ready! Thanks Audra.
Chanell Miller -
A.L.O.F Home Interiors
I am incredibly thankful for Audra and Home Staging Resource. I knew HSR was the right choice after watching the introduction video and learning about the program. HSR is not just a home staging training. When taking the course through HSR, you will learn smart home staging and redesign strategies and tips, you'll gain a wealth of knowledge on how to structure your business properly, and you'll learn how to implement marketing strategies that work for long term success. After taking the training and as I move into my new career as a home stager and redesigner, I feel excited, confident, and empowered in my ability to build and grow my business so I may share my passion and love for design with my clients.
Elizabeth Anne Shea -
Gardenia Home Design
I really enjoyed the HSR training. I learned so much and gained confidence in my decision to follow my design passion. Audra and her video tutorials were entertaining, packed with information and kept me focused on each lesson. I cant wait to get started with my new business. The resources available thru HSR are invaluable and worth every penny!
Audra's HSR program is amazing! It's very detailed and is something I wish I had found years ago if I weren't to afraid to follow my passion. I took my time getting through the material but remembering my "why" pushed me past my fear. Now, as an HSR grad, I am confident I have the tools to be successful...I'm ready! Thanks Audra.
Kara Whisler -
Midwest Mod Interiors
Taking the HSR certification training was a great boost for my business! There are so many ins and outs to this industry, and as Audra says, why reinvent the wheel? I'd rather focus on delivering results for my clients than being bogged down with administrative setup tasks. Thanks Audra!
Rachel Jennifer -
Rachel Jennifer Interiors
I had previously purchased training through another company and was still struggling on how to fill in some holes that I did not have information on. Then I found HSR. It covered EVERYTHING that I needed to know and answered questions that I did not even know I had. Audra's training was extensive and thorough with no subject left untouched. Her passion for helping home stagers is obvious and the ongoing support available is amazing! Now I feel that I have everything I need to transform my business in to the dream I have had for so long!
Diane Mayo -
Creative Interiors
I am thrilled that after extensive research, that I chose HSR! The training is comprehensive, the support from Audra herself is phenomenal! I have had occasion to email her twice with a same day response! The inexhaustible up-to date resources are incredible! The HSR Community of Stagers are AWESOME! I am a Senior Citizen with no previous social media or website building experience; however, the instructional videos and training manual gave me the confidence to try to master these areas without the expense of outsourcing or giving up control. I purchased the premium website with my training and find it to be superior to many others I researched. Thank you Audra, the Staff and the HSR Community for your expertise, resources, encouragement and training!
Gail Morin -
Gail Morin Design
The Home Staging Resource Training has exceeded my expectations in home staging and redesign training. HSR provides so much information on each topic with extra links to additional resources. The videos are extremely helpful as they provide examples on what to say and do, how to merchandise a home, home staging critics and how to have a successful staging and redesign business. HSR gets you set up for business quickly as it provides the forms, templates and marketing resources you need to get started. HSR has great customer service and Audra promptly replied to any questions I had. I highly recommend HSR for your staging and redesign training.
Trina MacPhee -
MacPhee Interiors
Where do I start? AMAZING! I had previously taken a 3 day training course and it didn't even come close to HSR. Yes, I walked away with a certificate and learned a few things but not even a fraction what I have learned here. The material is so informative and easy to apply in my staging business. I will continue to stay in the loop with HSR, its a must for a successful business. Thank you Thank you xoxo!!
This training far exceeded my expectations. It covers every area of Home Staging & Redesign. All the social media information is great!
The HSR training was extensive, and helped me hone my message to my client and develop my value statement. The simple design techniques helped me confirm my instinctive ability and boosted my confidence.
I have truly enjoyed the HSR training. The program is easy to follow, and I loved that I could study when it was convenient for me. I will proudly stamp the HSR logo on my marketing materials! It has given my the confidence and reassurance that I need to start my dream career of home staging and redesign. Most staging programs out there are 2-3 days in length. This one is 21 days and that says a lot right there. It doesn't happen over night. There is way more to this career than information you receive in just two days. Thank you Audra!
I took a two day staging course last fall before I heard about HSR. Once I found HSR I was intrigued, but wanted to make sure I was taking the right course for me. I noticed the HSR Certification logo on many different home staging business websites I came across. I also looked into other courses (some costing twice or three times as much, none lasting longer than three days). I'm sure those courses are probably good enough for some, but I didn't see the real value like I saw with Audra's course. Three weeks of training WITH design modules? Over 100 business forms that I can instantly have at my fingertips to use for my business? None of the others came close. I'm so glad I signed up for this course! Each week is laid out and explained beautifully. She literally thought of everything!
Miriam D. Charles -
Houston Property Stylist
I cannot express how grateful and thankful I am to Audra for this wonderful staging certification course. I've gained incredible amount of knowledge through this training. I am confident enough to jump start my business with all the training and tools provided by HSR.
Rajitha Talluri -
Appealing Spaces Staging & Redesign
As a person who has always loved to design by instinct, and as a newly licensed real estate sales agent, I wanted to be able to provide my clients with more than one area of expertise in the selling and/or purchasing of a home. I feel confident with the training I have received through HSR to execute the services of staging, design, and redesign. Becoming certified through HSR as a professional home stager and redesigner brings confidence and pride knowing that I have received the best training in the industry. I offer my sincere thanks and gratitude to Audra Slinkey.
The training I received from Audra Slinkey and Home Staging Resource is the most comprehensive I've found in the industry. It provided me with EVERYTHING I need for the success of my new business, as well as a great support network for my ongoing questions and learning. Thanks, Audra!
Meg Barnet -
Meg Barnet Home
I am so glad I chose HSR for my Home Staging and Redesign Certification. After researching various certification options, it was clear that HSR was the right choice from the start. The education, the access to resources and materials, and their connection to RESA, not only makes them a fantastic program for certification purposes, but also for future success.
I knew I wanted to launch a staging business but had no idea where to begin. I researched several courses and Audra Slinkey's seemed like a no brainer to me. She was engaging thorough and fun to learn from. The biggest issue I knew I would face is putting together the business and marketing side of my business. This course was EXACTLY what I needed!
Melissa Wilson -
Melissa Wilson Designs
The amount of relevant and applicable information and materials that are contained in the training program is astounding. At completion of this training I feel that I am extremely prepared to take on clients and be very successful in this industry.
Christina McLaughlin -
The Design Image
The Home Staging Resource training has been so invaluable to me as a new Stager. It has given me the confidence, credibility, tools and support to go out of my comfort zone and take a chance on starting my own business and being able to do something I love as a career!
Jana Soulakis -
Wisteria Lane Home Staging
If you are on the fence about taking the HSR's training, you should know from my experience, it's incredibly well organized and offers an abundance of first hand staging and design strategies. The program is "soup to nut". You learn business, marketing, design and so much more! Go for it!
Exceptional training! I have taken other home staging classes and HSR is the best by far. The amount of knowledge and material is superior and being able to take the course at my own pace allowed me the flexibility I needed to learn and pass the course on my schedule.
I never imagined starting a business on my own and this training gave me the tools to do just that! I am thrilled to start getting paid for doing something that I love and can't wait to see where it leads!
Christen Gorman -
CG Statement Designs
Wow! What a wonderful training! HSR came highly recommended and did not disappoint. Thank You!
Patricia Navarro -
Refined Home Staging & Design
Home Staging Resource is so much more than a training company. It is a wealth of knowledge and resources that helps to guide you on building your business from the ground up or expanding your existing business into a variety of other markets.
Jennie Boller -
Jens Home Staging
At a time in my life that I was looking for big change and an opportunity to reinvent myself, this training rocked my world! It was just what I needed. It has provided my with a multitude of learning tools and resources that I will continue to come back to to grow my business refresh my memory. Audra's model, like all good teachers, showed me where to look, but not what to see. I can't wait to launch my business!
Jennifer Marie Rosa -
JPR Redesign Company
The Online Advantage
100% Online Training - All-Access, All the Time, so You Can Hit the "Rewind" Button


Self-Paced - Membership is for a Year!

No Expensive Travel
Toll Free Number for Complete Support!
Business Directory Listing in the Most Trafficked Staging Directory Online!

Certification in Both Home Staging and Redesign/Interior Styling!
​Learn BOTH Staging & Design!

Professional Certificate Delivered Electronically After You Watch the Week 3 Overview Video


PDF and Social Media Shareable

Never Lose or Damage It!
Certification Logos for Download

Third-Party Accredited
HSR Was the FIRST to Become RESA Accredited Back in 2009!

Audra Personally Trains Each Student

Accreditation Matters and Creates Accountability!

A+ Better Business Rating!
​We Have a 100% Satisfaction Rating!

Our Students LOVE Us!


Best Reputation for the Longest Time
Most Recognized Certification
Agents Recognize the HSR Logo Because Our Members Are the Best in the Business!


Launched in 2006, Over 10 Years of Excellence in Training!

Certification of Excellence!

Most Innovative Product & Trainer
​Most Awarded RESA Innovative Product and Service - 2012, 2013, 2015 and 2017!


Best Reputation for the Longest Time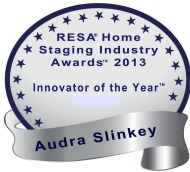 Member Private Social Network
888 Number for Instant Support!
Private Member Network for Q&A


10,000+ Before & After Photos to View

600+ Searchable Forum Q & A
Local Groups, Events & Member Search
American Society of Home Stagers and Redesigners Membership
Business Directory Listing in yet another very trafficked staging directory!
Logo for your website & Materials
Home Staging & Critique Videos
Over 40 Hours and 35 Homes from Across North America

Videos Showing Exactly What Was Done and What to Propose in the Home

Detailed Staging Day and Consultation Walk Through Videos
Daily Staging & Design Modules
300+Page, Photo-Filled, Downloadable, Daily Design Lesson Plans

Principles & Elements of Great Design, Comprehensive Color Guide, Room by Room Staging and Redesign, Furniture Layouts, Feng Shui, Windows, Organization... Everything Staging and Design!
Training Manual Shipped to You!
Hard Copy 300+Page Training Manual Priority Mailed to Your Door!
Tabs for Each Week's Worth of Materials


Walks You Through Step-by-Step

Corresponds with Online Member Area

Includes All the Guides Below...
NEVER Re-Invent the Wheel!
100+Forms in Word to Download & Easily Customize


Includes Contracts, Price Sheets, Proposals, Sales Sheets, Action Plans for All Aspects of the Staging and Design!

No Other Training Comes Close to Providing This Amount of Resources!



Privileged Membership & On-Going Live Training Webinars
Access to Ongoing Training Additions, Trade Discounts, Forms & Resources

Access to Live Webinar Training Q&A Monthly
HSR Planning Checklist & Example Training Calendar to Stay on Track!
21-Days of Training Organized in Calendar Format (about 4-6 hours/day)
Hard-Copy Checklist to Check Off Items Completed as You Go Through the 21-Days

HSR Guide to Success!
We Have a Specific Process & Business Model with a Record of Success!

Use Our 8-Step Staging Plan that Client's Understand and Real Estate Agents Love
Pricing Strategies to Get You Noticed

Similar to a Franchise, we give you a process and a plan that gives you instant credibility, connects client's to your business and has a track record of success. Minus the royalty fees...we know what works!
All About Redesign - A Step by Step Model for Success
We provide a specific process and model for Redesign with a track record of success
Leveraging Internet Technology to Simplify Your Client Interactions & Engage Them
All Forms Provided from Emails, Pricing, Proposals, Life Style Questionnaires, Agreements, etc...

Sales Sheets, Offers & Downloads
We Provide Over 10 Sales Sheets and Deliverables for Your to Customize
Use Our Sales Sheets to Collect Emails
Updated Statistics & Compelling Verbiage

Consultations that ROCK!
We Detail Exactly How to Structure, Deliver, Upsell and What to Say
Critical Questions to Ask and Confidence Building Process Leaves No-Stone Unturned...You Will LOVE This!
Video Training to Walk You Through

Vacant Staging Guide

We Detail Exactly How to Slowly Build Your Vacant Business
Avoid the Pitfalls We See Stager's Make!
We Connect You With the Right Vendors
Multiple Ways for Pricing & Proposals Depending on Your Capital
Extensive Forms and Video in this Section

Designer Discounts for Graduates!

We Connect You With Trade Discounts for Wholesale Pricing and Shopping!
We Have the Largest List of Over 100 Vendors Like Pottery Barn, WayFair, etc..
Furniture Rental, Retail, Window Covering, Flooring, Paint & Art

Video Training on Getting Resale License, Shopping Wholesale and Best Sources

Real Estate Partner Plans

We Detail Exactly How to Connect with Agents & Build Lucrative Partnerships!
10-Page Realtor Partner Plan that Makes Agent's Presentations Look Great!
Several Realtor PowerPoint Presentations
Open House Marketing Strategies that Work

Extensive Forms and Video in this Section

Model Home Staging & Builder Marketing Section

​We Detail How You Would Price, Shop & Process A Model Home Staging Project

We Detail How You Would Market Your Business to Builders
We Luxury Level Price Points and a PowerPoint Presentation for Marketing
How to Create a Vision Board for Clients and Best Software to Use!

Holiday Design Training & Process

We Detail Exactly How to Market and Process This Fun Service!
How to Define the Client's Style
How to Price and Market this Service
What to Bring and How to Re-Purpose

Grow Your Business Over the Holidays!

How to Add "Organization"

​Bonus Webinar with Guest Speaker

We Detail How You Would Add Organization to Your Services
The Easiest Way to Market Organization, How to Price and Process This Service
Best Way to Get Recurring Revenue

The "Business of Windows"

We Connect You to Wholesale Window Covering Companies for Great Income!
Make Money on Window Coverings
Become a "Dealer" if You Want
HSR Library of Resources

Large Real Estate Resource and Knowledge Base Link Area
Photo Idea Galleries, Quick Fixes & DIY
Veteran Member Marketing Advice

Advanced Live Webinar Training

We Love Webinars and Our Industry is Always Changing!
Veteran Interviews, RESA Conference Recap, What's Working Now Webinars

Your Training Should Grow With You!
5-Step Marketing Plan for Instant Success - We Know What Works!

Marketing Strategies Evolve, so You Need a Training Company that Knows What Works!
We Have a NO COLD CALLING Approach
Marketing Plans by Demographic, Marketing Calendar, Step-by-Step Process
Our Members Are Busy!

HSR Competitive Difference!

Audra Knows Internet Marketing!
Her Background Before Becoming a Stager Was a Published Author & Speaker on Internet Marketing

Your Business + Internet Marketing = Your Phone Ringing

One-Click, Discounted Instant Marketing Materials to Save Time!

Over 25 Styles You Can Edit Quickly
Access to VistaPrint Discounted Dealer Portal for Deep Discounts!

It Takes Months to Build Branded Materials, so We Save You Time!

Swap the Photo and Info for One-Click Ordering
Free, Easy Ways to Brand Your Biz

Step-by-Step Video Walks You Through Branding, Editing Images, Looking Your Best!
Free Image Editing and Logo Creation
Using Images & Video to Market Online
Automate Your Sales Funnel

Automate Your Facebook Ads

Drive Traffic to Your Website

Build Relationships Automatically

Put Your Marketing on Auto-Pilot
Create Your Portfolio Easily!

Best Ways to Showcase Your Photos Online and Offline
Forms to Include in Your Sales Portfolio
Simple Tricks to Make the Photos Shine!
Websites that WORK for You

We Detail Best Practices for Websites

We Are Experts at SEO for Staging

We Give You a Plan for Website Marketing

We Tell You the Mistakes Stager's Make, so You Can Avoid Them!
Connect to Over 20 Directories!

We Show You How to List Your Business on Google, Yahoo and Bing
We Give You Direct Links to the Best Directories Online, so Your Phone Rings!
We Walk You Through Using Houzz
"Systems" for Your Business

The Best Email Marketing Program

The Best Project Management Program

The Best Payment Processor, etc...

We Tell You the Best and Free Resources for Your Business - What Works and What Doesn't!
Using Social Media Efficiently

Stop Wasting Time on Social Media that Doesn't Bring You Business!

Follow Our Easy Plan for Which Social Media to Focus On and Automate
We Also Walk You Through Facebook Ads, Instagram, YouTube, Pinterest, etc...
The Art of Getting Referrals and PR

How to Build A Referral Base

How to Connect with Publishers - We Give You A Contact List of All of Them

Example Press Releases and Referral Forms

Six Tips for Successful PR
How to Blog for Business

Stop Wasting Time on Blogging UNLESS You Have These Activities in Place!

How to Blog for Search Engine Optimization
Compelling Titles to Get Reader Attention
Become the Design Blog Guru in Your Area
Direct Mail & Advertising for Success

Seven Rules for Direct Mail

Direct Mail to Sellers, Agents & New Home Owners with Example Letters/Verbiage

Online Tools to Automate Your Campaigns

Example Scripts for Every Aspect of Your Business!

How to Make a Cold Call

What to Say to Close the Deal
How to Find the BEST Agent Clients and Contact Them
How to Connect With Real Estate Offices
See What's Inside Our Members Area>>>
No Other Training Can Compete With the Level of Resources, Forms, Tools and Video At Your Fingertips.
Don't "Settle" For Less!
Two Payment Plan
HSR Certification in Staging and Redesign

Membership & Access for a Year

Pay $599 today and another $500 auto-billed in 30 days



---
Best Price When Paid In Full Today!
HSR Certification in Staging and Redesign

Membership & Access for a Year

Save Over $100 & Buy Today!



---
Three Payment Plan
HSR Certification in Staging and Redesign

Membership & Access for a Year

Pay $419 today and $390 every 30 days for 2 months



---
Got a Partner or Employee in Your Business?
Partners and employees get 50% off the cost of the HSR Certification Training!
Do You Want to Split Total Payment For Partners?
$999 + $499 Added Partner - Divided By 2 Partners
= $749 Each Partner